Soorarai Potru director is seriously injured in an accident..!?

Actress sudha Kongara, who is directing the hindi remake of Soorarai Potru, has posted on twitter that she has been seriously injured in an accident. sudha Kongara worked as an assistant director to director Mani Ratnam and made her directorial debut with the 2010 film Drogi. Then after a gap of 6 years, the film Irudhi Sutru, which was released under her direction, became a huge success. The madhavan and ritika singh starrer also won the National Award.

Sudha Kongara then remade the film in telugu under the name of Guru, then teamed up with Suriya and directed the popular film Soorarai Potru with him. The film was released on diwali 2020 directly in OTT and received a huge response. Apart from that, the film also got 5 national awards.
 Akshay Kumar is playing the lead role in the film. The film is being produced by Suriya's 2D company. Apart from that, actor Suriya also acted in a cameo role in the film.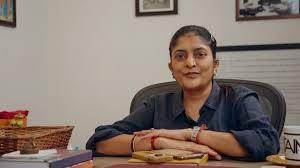 In this case, the director of the film sudha Kongara was injured in an accident. She shared a photo with a big lump on her arm and posted saying that it hurts and annoys her. One more month break" with a sad emoji. Seeing this, music composer gv prakash tweeted, "Get well soon sister."

మరింత సమాచారం తెలుసుకోండి: