Gauri Khan has made karan Johar's house a 'paradise', see pictures from the living room to the bathroom
Recently, the latest pictures of bollywood filmmaker karan Johar's mumbai house have come to the fore, seeing as it can be said that gauri khan has decorated Karan's house very beautifully.
Bollywood filmmaker karan johar likes to live a luxurious life, which is reflected in his lifestyle. By the way, her mumbai house is also very glamorous and stylish like hers, which has been designed by her close friend and interior designer Gauri Khan. Recently, karan shared some inside photos of his house with his instagram account. Recently, karan and Gauri did a photo shoot for 'Architectural Digest magazine at the filmmaker's house, some pictures of which were shared by karan as well as the magazine on their instagram accounts. In these pictures, the fans are surprised to see the interior of Karan's house. 
Dining and living space of Karan's house
A picture surfaced shows the living-dining space with two beige sofas and a marble side table on a golden metal base. Two nesting coffee tables can also be seen in front of them. There are also blue couches and some wooden chairs. At the same time, there is a marble dining table behind a sofa, which can seat eight people. There is also a big black and white artwork on top of it, which is working to enhance its beauty.
Whereas, another seating area is decorated with a jewel-toned green velvet sofa and a white and black sofa. A golden-colored table is placed between them. Apart from this, decorations with big candles and showpieces are adding to the beauty of the entire area. karan Johar's vanity van is also very luxurious,  Karan's bathroom is very stylish. However, it is their bathroom, which is the most stylish. It looks quite attractive with the black countertop, black cabinets, and a black double basin. The floor made of brown and white tiles gives retro vibes. The massive lights in the bathroom are also eye-catching.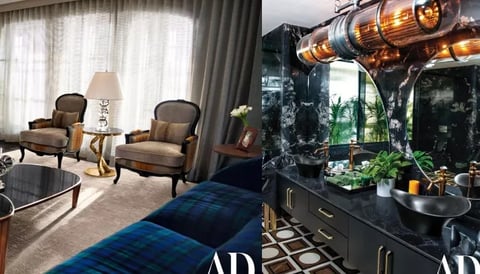 Talking to AD magazine about the design of Karan's house, Gauri said, "The house is bespoke. The design of the house reflects who karan is, who is glamorous, stylish, and fun-loving. For information, let us tell you that karan lives in this house with his mother Hiroo Johar, and children Roohi and Yash. By the way, how do you like the house of Karan? Do tell us by commenting.
మరింత సమాచారం తెలుసుకోండి: