Did ilayaraja overplay his game..!?

Musician ilayaraja is the number one composer in the indian music world. He has played a major role in taking music to another dimension. kollywood cinema can be divided into before ilayaraja and after Ilayaraja. There are also films made for his music. But he has many times more brain power than his musical talent. Recently, his activities have become unpopular with fans. But before that, he had a conflict of opinion with many directors and lyricists. Some of the directors have decided that they don't want him.

K. Balachander: director Imayam k balachander and music composer ilayaraja teamed up for the film Pudhu Pudhu Arthangal. At the same time, balachander got angry when ilayaraja gave importance to their films and finished them first because he also had work on Kamal and Rajinikanth's films.
Bharathiraja: Musician ilayaraja and director Imayam bharathiraja were good friends even before entering the cinema. They had worked together in many films and suddenly had a difference of opinion and parted ways. They haven't spoken in years. After that, both of them had a very friendly talk on a public platform. ilayaraja personally met bharathiraja even when he was hospitalized recently.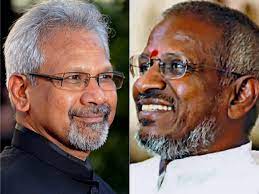 Mani Ratnam: director mani ratnam and ilayaraja worked together in many films. All the songs released in the movie Thalapathy in their alliance are still enthralling the fans to date. But during this film, both of them had a difference of opinion and separated. mani ratnam and AR rahman alliance was formed after that.

Bhagyaraj: Even till Bhagyaraj's chinna Veedu movie, ilayaraja was composing music for him. After that, they separated due to differences of opinion. Bhagyaraj, who till then was a story, screenplay, dialogues, and director, also became a music composer through the movie Ittu Namma Aalu. He found success in it.

మరింత సమాచారం తెలుసుకోండి: