Why samuthirakani commented over Pawan Kalyan..??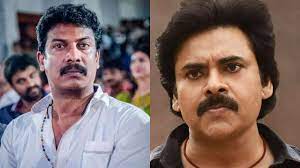 One of the biggest films to come out this year is BRO, starring pawan kalyan and Sai Dharam Tej. samuthirakani created the fantasy comedy. For those who don't know, Vinodaya Sitham is a tamil film, and BRO is an official remake of it.
Samuthirakani is an indian actor and director who primarily works in the tamil language. He has also made appearances in telugu and malayalam movies. Returning to the subject, samuthirakani is actively promoting Vimanam, his most recent acting project, which premieres today. In an interview, samuthirakani talked about the charitable component of Power star. "Kalyan Sir once told me that humans are gifted with two hands, out of which one is for ourselves and the other is to help others," countered Samuthirakani.
The actor-director asserted that pawan kalyan has shared with him countless additional tales of a similar nature. samuthirakani promised to divulge all of Pawan's information slowly and meticulously. The humanitarianism of pawan kalyan is another reason to adore him. The Bro movie team has begun working on film dubbing. On July 28, the movie is slated for release. The score for this movie was written by Thaman.
Samuthirakani is busy promoting Vimanam, his newest movie as an actor, which comes out tomorrow. samuthirakani discussed the altruistic aspect of Powerstar in an interview. "Kalyan Sir once stated to me that human beings are gifted with a pair of hands, for the purpose of which one is for ourselves and the other is to help others," retorted Samuthirakani.
మరింత సమాచారం తెలుసుకోండి: