ravi teja will test his luck in the Pan india range for the first time with mass Maharaja Tej film. As the release date of the movie is nearing, the movie team has given an update about the second song, which has intensified the promotions. The film is based on the biopic of tiger Nageswara Rao, who became famous as a housewives in the 1970s. gv prakash  is composing the vocals. Expectations on this film are good from the beginning.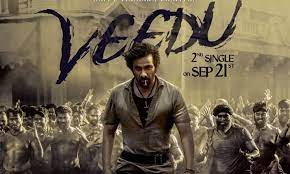 When promotional films started to be released as part of the promotions, the expectations doubled. The makers have recently released a duet song called Ek Dum as the first single. It really impressed the listeners. Now the makers have given an update about the second single. The upcoming song titled Veedu will be released on september 21. 
Get ready to see the mass aspect of tiger Nageswara Rao. A mass poster was also released. This poster is designed with pure mass ash (grey) color background. ravi teja was seen walking boldly forward to face someone seriously while crossing the fence and firing beedis. His dress looking style from top to bottom is very massive and deglamour. Looking at all this, it is clear that this second song has been shot in a powerful way. And let's see how this song will be.. And this movie is going to release grandly on october 20. Anupam Kher, renu desai, Jishu Sen Gupta in other pivotal roles. And will this film give the biggest break in ravi Teja's career?
మరింత సమాచారం తెలుసుకోండి: