Did SIT get key evidence to book bjp National General Secretary BL Santosh? On the one hand, is the kcr government ready to target the national leader of the bjp after mentioning Kalvakuntla's poem in the ED remand report? government sources say yes. The whatsapp chat of the accused who tried to buy with BL Santosh has now come out and it has become exciting. Ramachandra Bharati messaged Santhosh to introduce three people to you. 
 Ramachandra Bharati asked him to tell sandeep about VK Singh. whatsapp chats between the two of them from august 2021 were created on april 11, 2022, in Haridwar. The chat with the MLAs was also part of the message sent by Ramachandra Bharati to BL Santosh on october 26, the SIT said. The Special Investigation Team (SIT) of the telangana police, which is probing the allegations of bjp agents trying to buy four telangana rashtra samithi MLAs, has recently found crucial evidence of the role played by bjp National General Secretary BL Santosh. Sources said the SIT, with the help of forensic experts, had collected a whatsapp conversation between Santosh Ramachandra Bharti, one of the three accused in the case, who was arrested by the Cyberabad police on october 26.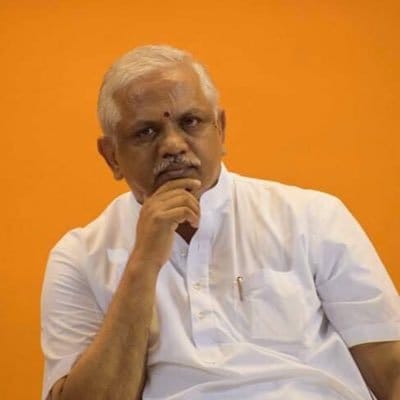 Although it was not immediately known what was in the conversation, the fact that Santosh had a direct relationship with the accused made it clear that the top bjp leader was involved in the embezzlement case. "We have submitted the evidence to the court. It will take some more time for the conspiracy to be exposed. There is no chance of Santosh escaping and then all the big heads in the bjp will be exposed," trs sources said.
మరింత సమాచారం తెలుసుకోండి: