12 more cheetahs to India: What happened with Africa?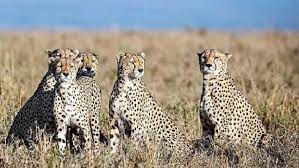 Cheetah in India: Eight cheetahs were previously brought to Kuno, and twelve more will arrive in February. 12 more leopards will follow in the ensuing ten years.
Officials announced on wednesday that the South African government has signed a Memorandum of Understanding (MoU) for the relocation of 12 cheetahs to Madhya Pradesh's Kuno National Park (KNP). Days after President Cyril Ramaphosa gave the treaty his approval, the South African environment minister signed it.
Approval was given to send cheetahs to india in november last year
Earlier, PTI had reported in a report that in november 2022, South Africa's Environment, Forest and Fisheries minister Barbara Creasey has approved the proposal to send cheetahs to India. After this, to send these cheetahs, the officials were waiting for the approval of the South African President for the formal agreement between the two countries.
These leopards were quarantined at one place in September
According to the PTI report, 9 of the cheetahs coming to india from south africa were quarantined at Roiberg Veterinary services in september last year. Wildlife Veterinarian Dr Andy Fraser is running this centre in Limpopo Province of South Africa. Three other cheetahs were quarantined at the Phinda Game Reserve in KwaZulu-Natal province.
మరింత సమాచారం తెలుసుకోండి: