Terrorism case against PM Imran Khan...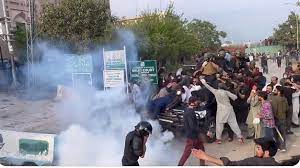 Imran Khan, a previous prime minister of pakistan, continues to face challenges. imran khan and about a dozen other pakistan Tehreek-e-Insaf officials have now been charged with terrorism. (PTI). The charges of sabotage, assault on security personnel, and participation in causing a commotion outside the courthouse during the hearing of an imran khan corruption case led to the police registering a FIR under various sections of the Prevention of terrorism Act on Sunday. Meanwhile, Imran Khan's home allegedly contained a cache of weapons, according to the police. From Imran's home, hundreds of projectiles, including AK-47 rounds, and petrol bombs were found.
A fight broke out between Imran Khan's supporters and security officials outside the Islamabad courthouse when he had traveled from Lahore to appear in the eagerly anticipated Toshakhana case hearing. Following Saturday's altercations between PTI employees and police that left 25 security personnel hurt, Additional district and Sessions Judge Zafar Iqbal postponed the case until march 30.
According to Geo News, PTI activists and wanted leaders are the subject of a FIR filed by Islamabad Police. In the FIR, 17 PTI officials are mentioned. The main gate of the judicial compound and the police checkpoint are allegedly destroyed by Imran's supporters. 18 individuals have reportedly been detained by the police on suspicion of arson, stone-throwing, and causing damage to the judicial complex building. Two police cars, seven motorbikes, and the official car of the in-charge police station were all damaged during the altercation, according to the FIR. 
మరింత సమాచారం తెలుసుకోండి: