Mohammed Siraj's kind gesture..! Money to Staff..!?

 The indian team won the title of champion for the eighth time in the final of the Asia Cup. indian fans never dreamed that India's victory in today's game would be so easily a headline. india bowled first and bowled out sri lanka for 50 runs. The main reason for this was mohammed siraj who shocked the Sri Lankan team by taking four wickets in the fourth over of the game. The Sri Lankan team never recovered from this shock. In this situation, Mohammad Siraj took six wickets in this match.
For this, he was awarded the Man of the Match award. He announced that he wanted to give the prize money he got to the stadium staff. The staff of the stadium, who did not expect this at all, were filled with joy. And speaking of it, this gift is more appropriate for the ground staff than for him. It all started there, Siraj completed Rohit's plan perfectly. sri lanka is an empty secret because if they alone did not do their job, this series would not have been successful, Siraj said. ravi shastri praised and congratulated Siraj for this act. Continuing this, Siraj said that he has been bowling well for the past few months.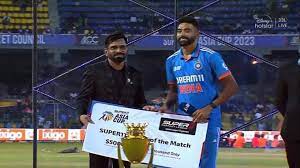 In his bowling, he did not get a wicket in the last two matches without the ball being batted. But in yesterday's game, the batsmen got the edge. This got him wickets. He wanted to bowl in such a way that the batsmen felt the pressure when they bowled.heI bowled perfectly as per the plan. At first, the pitch was a bit damp. So the ball swings well. There is a good sense of camaraderie between ther fast bowlers. Because of this, if there is pressure at one end, they take wickets easily at the other end. It also gives an advantage to the wearer. Siraj said that he considers this to be the best bowling of his life for sure.
మరింత సమాచారం తెలుసుకోండి: