Naatu Naatu song by tesla with Light dance..!?

The tesla has dazzled thousands of cars by flashing colorful lights to the tune of the Naatu Naatu song which recently won the Oscar. Last year's film 'RRR' was directed by director SS Rajamouli. The film, made on a budget of around 500 crores, was a huge success worldwide and won accolades for Ramacharan and Jr. ntr who acted in the film. In this case, even though all the songs featured in keeravani music in this film got a good reception among the fans.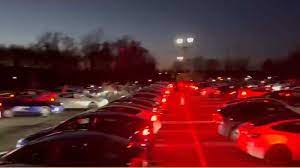 The song 'Naatu Naatu' went beyond the South indian film industry and was enjoyed by hollywood fans as well. In this case, the song 'Naatu Naatu' has already won the Golden Globe Award in the Original Song category at the Oscars, and won the oscar award by participating in the recently held oscar competition.
Now, after many fans have danced to the song, Testa has made the lights of the cars shine. rrr fame Naatu Naatu song has gone worldwide and is being enjoyed by all people. Many people are dancing to it with their different dance moves also in their own country. Here is the video about it.

మరింత సమాచారం తెలుసుకోండి: