Popular singer suffocates on live stage..!?

Popular singer choked on live stage. At that time she was breathing hard and tried to control the situation. After watching that scene, the fans started to panic. What happened to the sudden injury? Everyone was worried. The featured singer in this episode is Taylor Swift (33). Footage shared by fans from Taylor Swift's brazil concert on friday showed singer and songwriter Taylor Swift struggling to breathe on stage. The scene unfolded on stage in Rio de Janeiro. Temperatures in the city have reached unbearably high temperatures, reports Mirror Co. UK.


This video was very scary to watch. Caused pain. Why is Taylor having trouble breathing? Excessive heat is the cause. Young fan Ana Clara Benevides died at the age of 22 due to extreme heat. There were reports that Clara suffered a heart attack at Taylor's show. The cause of death is yet to be ascertained. Taylor Swift cancels second brazil show after fan dies due to extreme temperatures.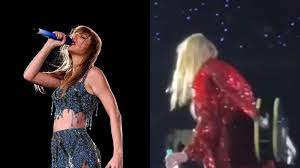 According to Mirror.co.uk, in new footage circulating on social media, Taylor appears to be struggling with extreme heat stroke and humid conditions during her performance. After performing her hit from her 2022 album Midnights - Bejeweled, Taylor was seen on stage taking deep breaths and trying to regain composure. twitter fans are concerned about Taylor's problem with a video circulating on social media. ``OMG this is so big.. breaking his heart,'' one commented, saying she's so professional.. but it's embarrassing to see her like this. It happened at 120 degrees. This stage is insane! wrote another. This video is very scary and sad to watch. Commenting that I know why Taylor is having trouble breathing is probably because of the high heat.
మరింత సమాచారం తెలుసుకోండి: