Although khushboo is a Muslim, her ancestors built a temple..!?

Actress khushboo has surprised her fans by posting a photo on her twitter about her ancestors (grandfather) building a temple for a Hindu deity. khushboo was a leading actress in tamil cinema in the 80s and 90s. Apart from tamil, she has also acted in Hindi, Kannada, Telugu, and other languages. Khushboo, who has been a heroine not only on the silver screen but also on the small screen, is currently focusing on politics beyond acting and film production. Khushboo, who has already worked with parties like DMK and Congress, has now joined the BJP. She was recently appointed as a member of the National Commission for women in the Bharatiya Janata Party. Also, she has gone to france with minister L. Murugan on behalf of the bjp at Cannes Film festival which is going on in France. Khushboo, who is always very active on social media, posted a photo of herself standing in a temple in kerala on her social media page and said that it was a temple built by his mother's father-in-law, i.e. her grandfather.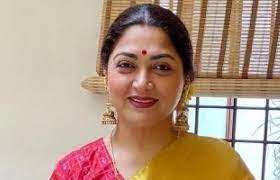 Actress khushboo belongs to Islam. Although her grandfather, who is known as a Muslim by birth, is also a Muslim, he has built a temple for a Hindu deity which has surprised many people. Similarly, this practice is similar to taking away their faith in Hindu deities. This information shared by khushboo surprised the fans. After marrying director Sundar C, actress khushboo has been living with the principle of accepting all religions without any religious differences. Even recently, when there were some rumors on social media that he had converted for marriage, she said that she has not converted and there is no need for her to convert as she is an Indian. In the same way, she said that it is unfortunate that her accusers have never heard about the marriage law in our country. In this situation, a photograph of khushboo standing in a temple built by her grandfather in kerala is being viewed virally.
మరింత సమాచారం తెలుసుకోండి: