Next actress coming to break trisha & Nayan's place..!?

As far as tamil cinema is concerned, although many new actresses have come and gone in the last 10 years, Lady Superstar Nayanthara is the only one who has been the leading heroine for more than 20 years. Actress Nayanthara is getting reception equal to heroes by acting as a solo heroine. It can be said that there are no leading heroes in cinema that he has not paired up with. Nayanthara, who got married when there was such a good market, had said that she would only act in a limited number of films. She follows it as it is. Whether Nayanthara's decision was in her favor or not, actress trisha was lucky. Recently, it has become so much that we can expect trisha in the films of the leading heroes of tamil cinema.

At a time when Nayanthara and trisha are competing and dominating tamil cinema, another leading actress is about to make a re-entry. If she is the only one who starts her film career again, not trisha, Nayanthara or many other actresses will have to go aside and take a break. samantha is the heroine who is going to give such a mass entry. samantha has recently been undergoing treatment for an inflammatory skin disease called myositis.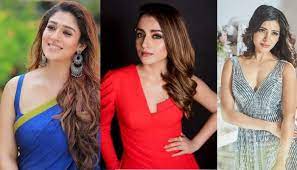 As a result, she could not act in any films and samantha could not act even in commercial films and suffered a loss of up to 30 crores.Samantha is currently undergoing treatment in Kerala. There is good progress in her physical condition. A video of Samantha's recent arrival at the airport was also released, and she herself shared a video of her resumption of exercise on social media. In another month, Samantha's health will be back to normal. samantha is going to enter the cinema again with a new inspiration. Actress samantha is the favorite actress of all South indian fans. After she returns to her old form, there is a possibility that many actresses will not get film opportunities.
మరింత సమాచారం తెలుసుకోండి: