The superstar who has become like Ilayaraja..!?

Superstar Rajinikanth has been the number-one hero in tamil cinema for almost fifty years. Rajinikanth has been acting only in hero roles in tamil cinema for more than three generations. He has a large fan base starting from the eighties to today's 2k kids. In general, as far as indian cinema is concerned, no matter how successful the film is, after a period of time, it will fade away, but Rajinikanth is celebrated with the same enthusiasm from the day he started. The main reason for this is his fans. On par with Vijay and actor Ajith, who are the legends of today's tamil cinema, why did Rajinikanth's films go a step further and the fans of Rajinikanth never failed to give a welcome and celebration of the show from day one?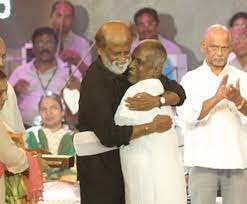 Rajini has made an announcement without even thinking about the fans who think of Rajini's success as their success. That means nobody should use Rajinikanth's name or photo without his permission. In general, the people who use Rajini's photos and name the most are his fans. We can even say that there are no autos without Rajini's photo. And his fans even name their business after Rajini.
Rajinikanth used to refer to his fans as 'the gods who kept me alive' on public platforms. That being the case, it is a little shocking that he has done the same thing as musician ilayaraja did a few years ago without even thinking about those deities.
మరింత సమాచారం తెలుసుకోండి: