Samantha's good news holding hands with VD..!?

Fans are congratulating actress samantha who posted a photo of her holding Vijay Devarakonda's hand. Actress samantha, who was suffering from a rare disease called myositis, has now recovered from it and has started focusing on cinema again. Currently, the movie Shakhunthalam in which she is acting is getting ready for release. The film is slated to release on tamil New Year on april 14. The historical film is directed by Gunasekaran. The promotion work of the film is currently going on in full swing.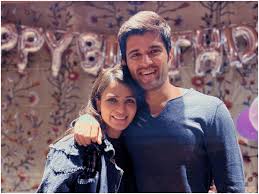 Apart from this, samantha also has a film named Khushi. samantha will be seen opposite Vijay devarakonda in the film directed by shiva Nirvana. The shooting of the film has reached its final stage. The film is being developed as a romantic film and is being produced by Mytri movie Makers. They were planning to release the film in december last year. But in the meantime, actress samantha was affected by myositis and she was unable to participate in the shooting, so the release of the film was postponed. Now that the shooting is nearing its final stage, the team has officially announced the release date of Khushi.
Accordingly, it has been announced that the movie Khushi will be released on september 1. In this regard, the poster released by the film crew shows a photograph of actor Vijay devarakonda with actress samantha holding her hand. The film, which is being made in Telugu, will be dubbed in tamil, Hindi, Kannada, and malayalam and released as a Pan india film. As the release date of Khushi has been announced, fans are wishing the film a success.
మరింత సమాచారం తెలుసుకోండి: