Sarabhai Vs Sarabhai' fame vaibhavi Upadhyay dies in a road accident, rupali Ganguly mourns
Recently, tv actress vaibhavi Upadhyay died in a road accident, leaving the entire tv industry in mourning. A sad incident has come to light from the tv industry. Actress vaibhavi Upadhyay, who played jasmine in the famous serial 'Sarabhai vs Sarabhai', died in a road accident on 22 May 2023. Her co-actor rupali Ganguly and others have mourned the sudden demise of the actress.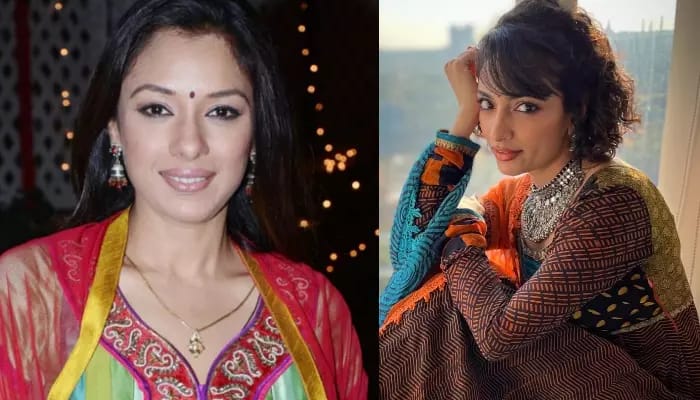 Rupali Ganguly expressed grief over the death of vaibhavi Upadhyay
Vaibhavi's co-actor in 'Sarabhai Vs Sarabhai' rupali Ganguly condoled the tragic death of the young actress. She wrote 'gone too soon' in a post on her instagram account and 'can't believe it' while sharing a reel. Famous actor and producer JD Majithia has also expressed grief over the demise of vaibhavi Upadhyay. She shared the post on her instagram story, writing, "Life is so unpredictable. A very good actress, dear friend vaibhavi Upadhyay, popularly known as "Jasmine" from Sarabhai vs Sarabhai has passed away. She met with an accident." Gaya. The family will bring him to mumbai tomorrow at around 11 am for the last rites. RIP Vaibhavi."
Vaibhavi Upadhyay died tragically in a car accident
As per reports, the accident took place in Himachal Pradesh, where the actress was traveling in a car with her fiance. According to the information revealed, the car went out of control at a turn, due to which her car fell into the ditch and the actress died painfully. The entire tv industry is shocked by such a sudden and tragic death of a young and talented actress.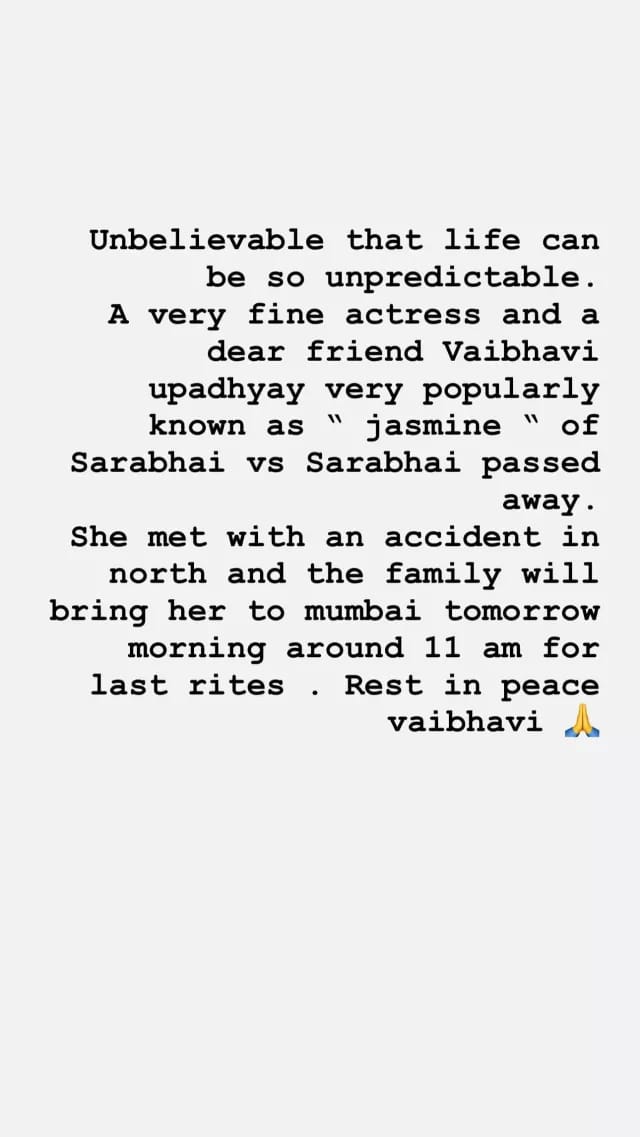 Vaibhavi has also worked with deepika Padukone
Vaibhavi Upadhyay was a famous tv actress, who has worked in many tv shows, but she got real recognition only from 'Sarabhai vs Sarabhai'. Her character jasmine was well-liked in the show. Apart from tv shows, she had also worked in bollywood actress deepika Padukone's film 'Chhapaak'.
మరింత సమాచారం తెలుసుకోండి: