Anirudh at ntr house in the middle of the night..!?

It is known that junior ntr is currently working on the movie Devara under the direction of koratala Siva. The film is opening with a high-voltage action backdrop plot with a huge budget. bollywood beauty Jhanvi Kapoor is playing the heroine in this movie. saif ali khan is going to be seen in every lead role. koratala siva is launching this film on the silver screen with star casting. Recently, on the occasion of Jr. NTR's birthday, the first look poster of the movie was unveiled and the expectations of the movie were raised to the limit.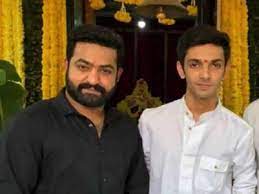 Meanwhile, kollywood star music director Anirudh is composing the music for this film. It is heard that the song sittings for this movie have already taken place. The latest video of koratala shiva and Anirudh is now circulating through ntr Fans Club twitter Profile. At two o'clock in the morning, koratala shiva Anirudh was standing next to the car in front of NTR's house and was discussing some pitch party. Someone captured this video and posted it on social media. Remarkably, this video has been shared on social media through the ntr Fan Club twitter profile. It is heard in industry circles that Anirudh and koratala siva were in front of Tarak's house at that time as part of the music sitting for the movie Devara with junior NTR. The Devara title given for this movie is a way to increase the expectations of the movie. And to what extent Anirudh will please the audience with the background music of the songs, we have to wait and see.

Being the most successful music director in Tamil, Anirudh's two films in telugu were not big hits. But it is heard that they are working hard on this movie.

మరింత సమాచారం తెలుసుకోండి: