Trisha said OK for marriage..!? Bye to Vijay..!?

Soon Trisha's house hears the sound of drums. Almost 35 years of age, when she got married, there was a lot of talk in the film circles. Her fans even thought that trisha would remain unmarried like some actresses. Soon Trisha's house hears the drum beat. She has been acting as a heroine in tamil cinema for more than 20 years and has paired up with all the leading heroes of tamil cinema. And during that particular period, she was the only one who ruled that religious actresses did not get a chance. Since then, for almost eight years, Trisha's market has completely collapsed. That's it for trisha, she can never come back. It was even expected that she would leave the cinema. But she got a fortune that no heroines have ever got. So far no actress has regained the lost market in tamil cinema.
Trisha has regained the market that she left behind and has become the number-one actress again. Her second innings started with Ponniyin Selvan, Leo, Vidamuyarchi, KH 234. She is currently the heroine who earns a double-digit salary. While trisha is expected to make a comeback, now the news of her marriage is coming out. It seems that she is getting married to a producer from the malayalam screen world. There is no official announcement from Trisha's side yet.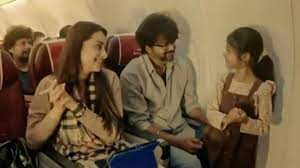 After the film Leo, trisha was once again rumored to be paired with actor Vijay. Accordingly, the photos of both of them circulating outside have gone viral on social media. As a result, now that the news of the marriage has been published, netizens are commenting on whether trisha is going to get married after showing bye to Vijay.

మరింత సమాచారం తెలుసుకోండి: