Rahul gandhi is not eligible to serve in the Lok Sabha...P2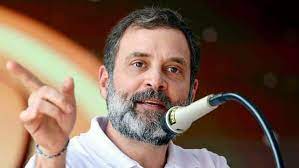 This technical hurdle is in the way of the by-election
In fact, the election commission is brainstorming on whether the date of the by-election should be declared or whether rahul Gandhi's next step should be seen in this matter. Even though rahul Gandhi's parliament membership has been cancelled, he can go to court against it. Apart from this, if rahul succeeds in getting a stay from the gujarat high court on the decision of the surat Sessions court, then also his membership can be saved. If the stay is not granted by the high court, then they can approach the supreme court for relief. In such a situation, the commission wants to examine all these aspects before declaring the by-elections.
In 2019 elections were contested from two seats, wayanad won and Amethi was defeated
Rahul gandhi became a three-time mp in the lok sabha by winning the Amethi seat in Uttar Pradesh, but in the year 2019, along with Amethi, he also filed nominations from the wayanad seat in Kerala. While rahul was defeated by smriti irani in Amethi, a stronghold of the gandhi family, by 55,000 votes, in wayanad, rahul defeated PP Suneer of the communist party of india by more than 4 lakh votes.
The political career will end if relief is not given
If rahul gandhi does not get relief from the court in the case of termination of lok sabha membership, then his career is likely to end. rahul gandhi is 52 years old, but despite being a scion of the gandhi family, he is still not a universal leader within the party. Voices of protest against him have been rising. Even in the general public, his image has been that of a leader who gives strange statements instead of a miraculous leader. If the decision to reject his membership is upheld, then rahul will be away from electoral politics for the next eight years. After staying away from active politics for so many years, it is not possible for him to make a comeback again.
మరింత సమాచారం తెలుసుకోండి: