Priyanka Gandhi's attack on BJP...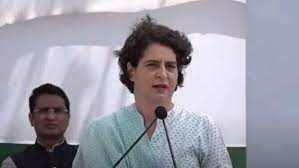 In protest against the cancellation of lok sabha membership of former congress President rahul gandhi, the congress organized a one-day Satyagraha across the country on Sunday. Veteran congress leaders and workers including priyanka gandhi, mallikarjun Kharge performed 'Sankalp Satyagraha' in front of the statues of mahatma Gandhi. During this, congress General Secretary priyanka gandhi made scathing attacks on the Modi government. He said that bjp insults rahul gandhi every day. priyanka said that the martyr's son is insulted, he is called Mir Jafar, but then no one's membership is cancelled.
According to priyanka gandhi, martyred father receives insults in Parliament. My brother is called Mir Jafar, bjp insults him every day. bjp minister says who is his father? The prime minister of the country says to the gandhi family why they do not use the surname Nehru? There is no case against you, nor is the membership of any bjp leader or minister cancelled.
Priyanka gandhi Vadra said that the son of martyr prime minister who walks thousands of kilometers to unite the country can never insult the country. priyanka was addressing a gathering at Rajghat, the mausoleum of mahatma gandhi in Delhi. rahul gandhi was disqualified from the membership of the lok sabha after he was convicted by a surat court in a 2019 criminal defamation case. priyanka said the time has come to raise her voice against the "arrogant government" as barring rahul gandhi from contesting elections is not good for the country and democracy. congress is doing one day Satyagraha on this issue at all the state and district headquarters.
మరింత సమాచారం తెలుసుకోండి: