One Lakh cameras & a helipad in Hyderabad..!?

The new war Room of hyderabad police is equipped with amazing, advanced, technological touches. It has a system that monitors around one lakh CCTV cameras installed across the city and detects every vehicle movement in real-time. A helipad has been built on top of the building for choppers to land in emergencies. The hyderabad Integrated Command and Control Center (ICCC) is equipped with advanced technology. This new war room was set up to remind America of the Pentagon military command center. This war room has facilities like around one lakh cameras, a real-time traffic monitoring system, and a helipad. telangana State home minister Mahmood ali today inaugurated the Additional Division of ICCC. The ICCC built at the hyderabad police Commissionerate Headquarters has been prepared with advanced and technological features.

A helipad has also been constructed on top of this building. helicopters can land here in times of emergency. It has a video surveillance system that monitors around one lakh cameras installed across the city of Hyderabad. A vehicle can be tracked in real-time anywhere in the city of hyderabad through this mechanism. A weather forecasting system has also been set up. This system detects severe weather conditions in advance and alerts. It takes disaster management to another level. Also, it is noteworthy that the ICCC also has a system for coordinating emergency cooperation in the event of disasters such as floods, earthquakes, and fires. It is known that hyderabad ICCC was launched by cm KCR in august last year. For its construction, the state government has spent Rs. 500 crores spent. Tower A has 19 floors, Tower B has 15 floors, Tower C has three floors and Tower D has two floors.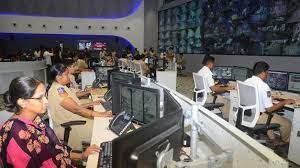 The DGP Chamber is located on the fourth floor of Tower A. The police commissioner's chamber is on the 18th floor, while the chambers of other high-ranking officers are on the seventh floor.
మరింత సమాచారం తెలుసుకోండి: