PM Modi made a major claim about telangana CM...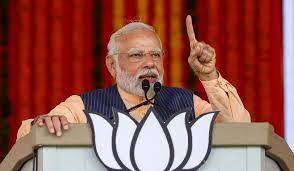 On Tuesday, the national democratic alliance (NDA) announced that telangana chief minister K Chandrashekar Rao wanted to join. "KCR needed assistance when the bjp won 48 seats in the hyderabad Municipal Corporation election. He used to greet me at the airport before this election, but all of a sudden he stopped," the prime minister said while speaking to a crowd in Nizamabad, a telangana city that is close to going to the polls.
"KCR came to meet me in delhi after the elections for the hyderabad Municipal Corporation and declared his intention to join the NDA. He also asked me to offer him support. I informed him (KCR) that Modi could not be associated with him as a result of his actions, Modi continued.
The BRS (previously TRS) won 56 seats in the Greater hyderabad Municipal Corporation (GHMC) elections in 2020. 43 seats went to the All india Majlis-e-Ittehadul Muslimeen, and 48 seats went to the Bharatiya Janata Party. "The bjp government at the Centre had given funds to the BRS-led government here for the development of telangana but regrettably, BRS indulged in looting the money sent for the welfare of the state," Modi continued as he continued his criticism of KCR.
మరింత సమాచారం తెలుసుకోండి: