Mumbai indians won the WPL title & First Champion!!!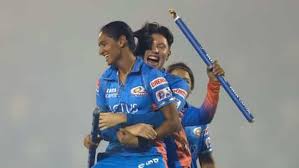 The Women's Premier League (WPL) champion is mumbai Indians. In the championship game, mumbai beat delhi by 7 wickets. The Brabourne Stadium in mumbai hosted the championship game. mumbai indians beat the 132-run goal that delhi Capitals set them with three deliveries remaining. Siever-Brunt scored an unbeaten 60 off 55 deliveries for mumbai, hitting seven fours in the process. Harmanpreet Kaur, the skipper of the mumbai indians, also had a stellar 37-run inning.
Delhi Capitals made 131 runs for 9 wickets thanks to a 52-run partnership for the tenth wicket between Shikha Pandey and Radha Yadav. With three deliveries left, mumbai responded by scoring 134 runs for three wickets. In his 55-ball inning, Skiver Brunt managed one end and hit seven fours. Additionally, Captain Harmanpreet Kaur performed a 37 run, 39 ball inning. Amelia Kerr eventually led the squad to victory with an unbeaten 14 runs in eight balls.
Record partnership for the 10th wicket
A record 52 runs were scored by Radha Yadav and Shikha Pandey together for the tenth wicket. delhi now has 131 runs after both players hit 27 runs each. Earlier, Mumbai's bowlers displayed incredible skill. In the eleventh over, Delhi's tally was 74 for three. Following this, six wickets went within five runs, and by the end of the 16th over, the total had increased to 79 for nine wickets. With Hayley Mathews taking 3/5 in 4 overs, Isabel Wong taking 3/42, and Amelia Kerr taking 2/18, Mumbai's foreign spinners excelled.
Shikha and Radha's unbroken 52-run partnership for delhi helped the squad surpass 100 runs. Radha and Shikha both hit unbeaten runs of 27 in just 12 and 17 balls, respectively. Radha scored two fours and two sixes in her effort, while Shikha scored three fours and a six. Earlier, mumbai was in a good situation thanks to the eight wickets taken by Mathews, Wong, and Kerr combined. By collecting 16 wickets throughout the competition, Caribbean all-rounder Mathews tied the UP Warriors' Sophie Ecclestone for most. 15–15 wickets were taken in the competition by Wong and Kerr. mumbai took the first three wickets in the final at the Brabourne Stadium thanks to full-toss deliveries from Wong.
మరింత సమాచారం తెలుసుకోండి: