Sridevi. Dreamgirl.South sensation. Glam Doll.Comeback Queen. Sridevi - the very utterance of the name, would definitely take people, on a nostalgic trip down the memory lane, to the golden period between the 80s to early 90s, when the girl from Sivakasi, ruled the whole of south cinema, with her charm, hotness, performance and attractive screen presence. 
Having started her career at a tender age of 4, playing Lord Muruga in the Tamil flick Thunaivan(1969), followed by many child roles alongside legends like MGR, Sivaji Ganesan and Jayalalitha, Sridevi went on to debut as a heroine, playing a very unconventional role , as Kamal's lover, and Rajnikanth's stepmother, in K.Balachander's Moondru Mudichu. 
Tamil cinema fans can never forget the demure, innocent and lively Mayil who came like a breath of fresh air as the typical Bharathiraja heroine singing 'Senthoora poove', the salesgirl Saradha who falls in love with an unstable man haunted by demons of his past, ultimately to be the damsel in distress in Sigappu Rojakkal, the hot and happening actress who encounters a threatening situation in Priya, the hysteric girl who has to fight inner demons in Pagalil oru iravu by IV Sasi, the emotional and sensible singer Archana, who falls for her fan, in Mahendran's Johny, the loveable girl next door Kokila who has to wage a war to protect her husband in Meendum Kokila by GN Rangarajan(which won her a Filmfare award for the first time ), the young girl Bhagya Lakshmi, who turns an innocent child Viji, with so much unadulterated love for her caretaker Cheenu in Balu Mahendra's Moondram Pirai.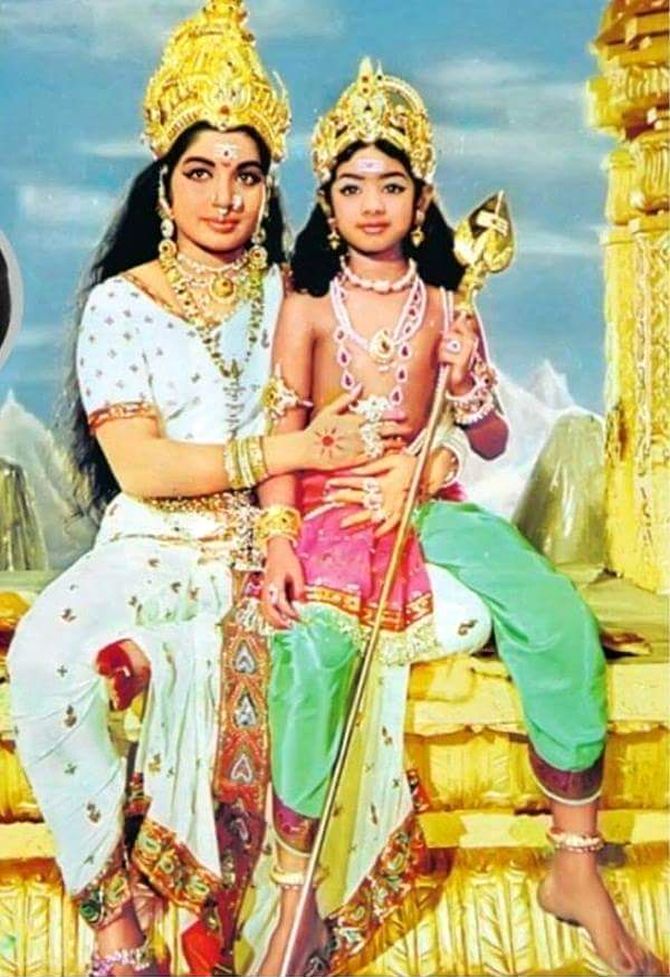 Not just that she was a performer, she mostly performed glamorously, eye-candy roles in numerous films, an enticing audience with her beauty and glam, wearing sexy and angelic attires in the songs of films like Raanuva Veeran, Guru, Pokiri Raja, alternating with films that have made use of her performing potential as well. She has paired with Kamal Haasan in more than 30 films, making them a most adorable and loved onscreen pair, and with Rajnikanth in more than 15 films, with both these onscreen pairs igniting rumors on real-life relationships. Sridevi had also played the female lead in numerous Malayalam flicks.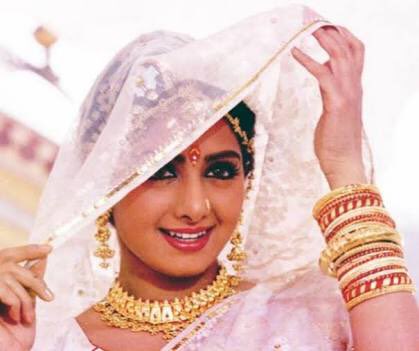 While her roles in Telugu, were typically limited to glam shows and Sensuous song appearances with Top Tollywood heroes like NTR, ANR, Chiranjeevi, Venkatesh, and Nagarjuna, with films like Jagadeka Veerudu Athiloka Sundari, Ram Gopal Varma had directed her in two flicks, Kshana Kshanam and Govinda Govinda, both of which had her playing cute roles making audience fall for her, so much that, even the maker RGV is in awe for her till date, as he was seen posting numerous updates in his Twitter handle, reminiscing memories of his experiences with the gorgeous girl, and her dedication and beauty, with each of his tweets conveying the love and admiration RGV had on Sridevi, and the  impact her loss gave him. Sridevi had also starred in few Kannada movies.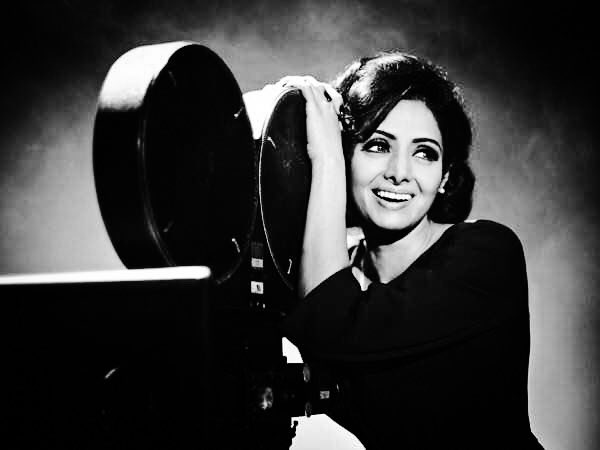 Though Sridevi began her career with Tamil and later entered Telugu, it was Bollywood that gave her a variety of roles and opportunities, both on the performance aspect as well as the glam angle, perfectly elevating her From a Tamil heroine, to a lady Superstar, which was quite impossible then, considering the limited opportunities south technicians secured, in Bollywood. Her entry in Bollywood happened, in just 3 years after her Tamil debut as a heroine, with Solwa Sawan, in 1979.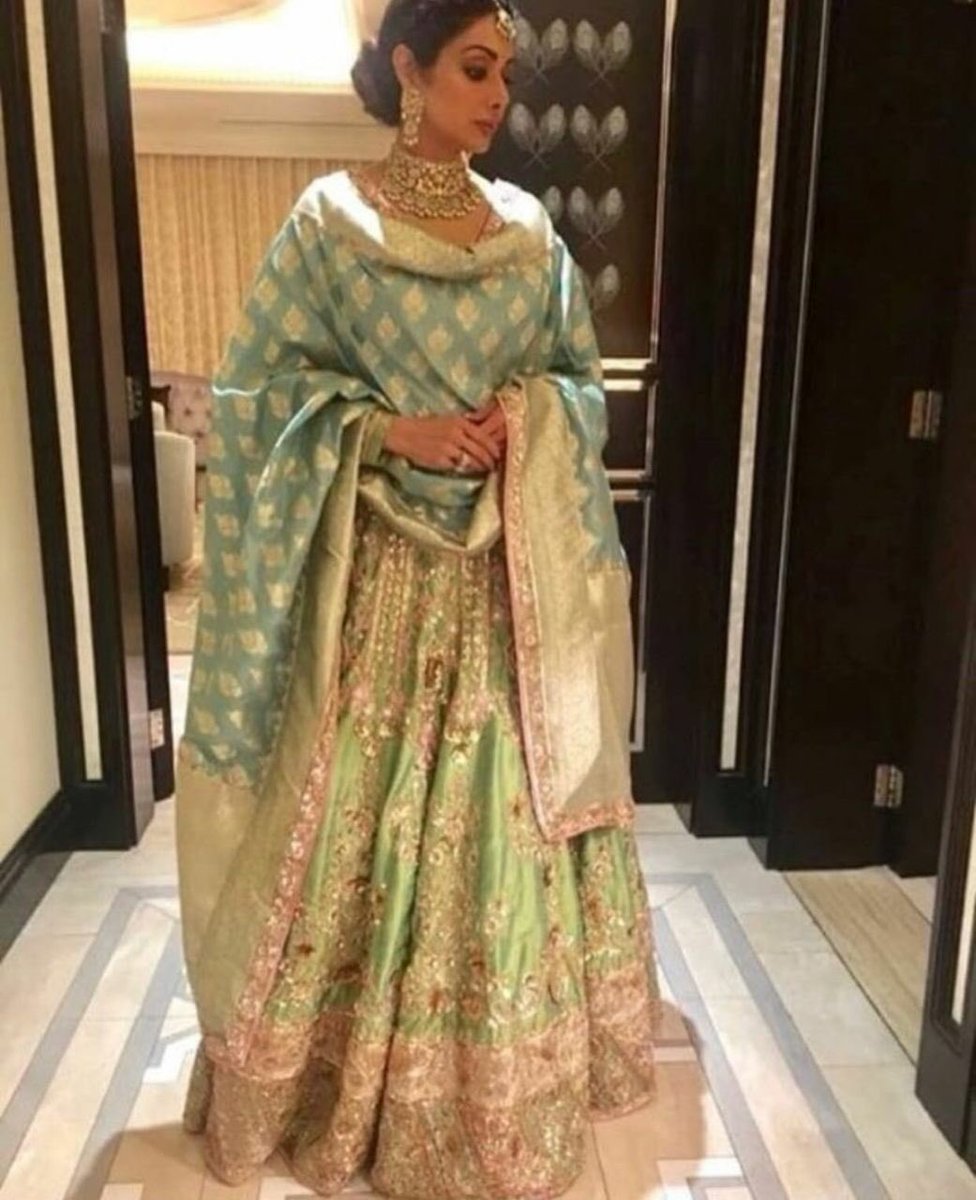 However, it was the 1983 flick Himmatwala opposite Dancing star Jeetendra, which propelled her to huge stardom, as she played a hot-headed brat, and playing a role that required her to go glam with navel revealing attires to a one-piece swimsuit, Sridevi just oozed oomph (Nainon Mein Sapna number was an instant hit for her grace and sensuous beauty) and instantly became the most wanted and most loved heroine with the sobriquet, "Thunder thighs" girl. She had starred in 16 films with Jeetendra. 
 She then got a variety of opportunities to showcase her histrionics, be it the revenge thirsty snake woman of Naagina, or her bubbly, journalist act in Mr.India (besides that iconic Charlie Chaplin shot!) , Which made her a superstar (and changed her from thunder thighs girl to Hawa Hawai girl), and her seductive appearance in Kaate Nahin in the same movie, in a sizzling blue saree, still remembered as one  of  the best rain songs of Bollywood, or  the double role with contrasting characters in Chalbaaz and Lamhe, the romantic act in Chandini, or the Greedy housewife in Judaai, Sridevi got a lot of chances to display her potential to the fullest.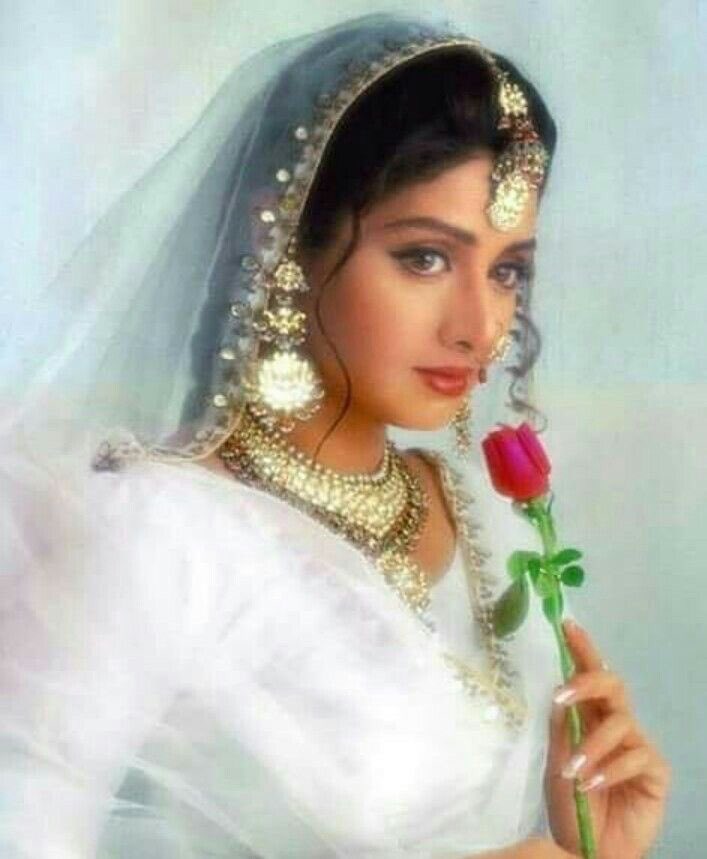 In her prolific career spanning 5 decades, the actress even ventured into serial, with Malini Iyer, marking her comeback after marriage with Boney Kapoor, and also made a stunning comeback to films, playing the lead heroine Shashi, in Gauri Shinde's 2012 superhit flick English Vinglish and also starred in another movie Mom by Ravi Udyawar , which was released last year to good critical response.
While her personal life had been a bumpy ride, with her short-lived marriage with Mithun Chakraborty, and getting married to Boney Kapoor as his second wife, her estranged relationship with stepson Arjun Kapoor, her health had to face numerous impacts as well, as she had reportedly undergone numerous cosmetic surgeries to enhance her looks, with surgeries on nose and lips, besides constant skin treatment to avoid wrinkles, and botox, as the ruling diva of the south, refused to age gracefully.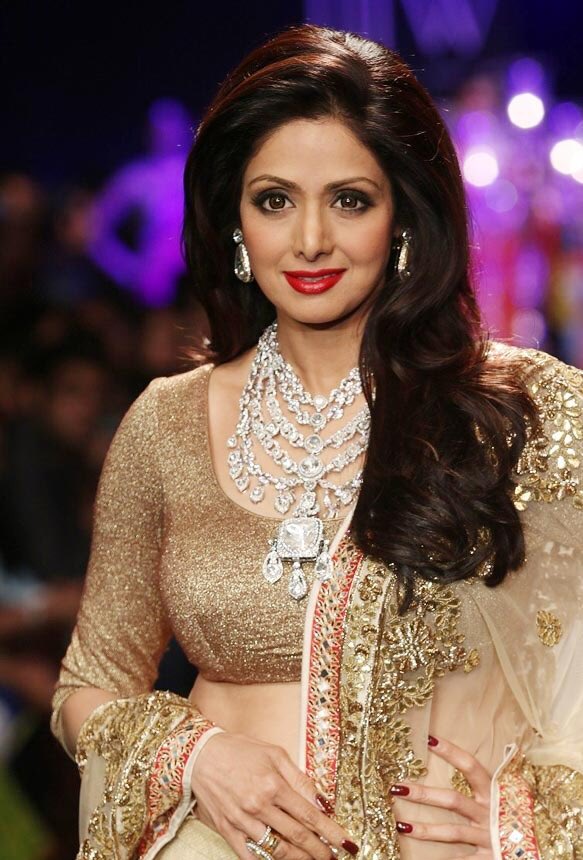 With so much self-inflicted pressure on herself to present herself young and charming, the glamourous dreamgirl of Indian cinema had put herself and her health in trouble, with such unhealthy practices, and though she looked unbelievably pretty for her age,  it was often deemed plastic by many.
And, with 50 years in films, 300 films featuring her (Mom was her 300th, and she plays herself in upcoming Shahrukh Khan flick zero ), and millions of fans of the beautiful actress, a powerhouse performer, waiting to see her in many more films for at least another decade, Sridevi breathed her last, following a cardiac arrest, in Dubai, where she had been to attend a family wedding. So much a shocker and unanticipated death for someone who had been actively seen in public events, Film functions, Ramp walks, and actively participating in her daughter Jahnvi Kapoor's debut film Dhadak releasing in July, and this can be only attributed to numerous beauty enhancing, unhealthy treatments, that cut short a beautiful career and a beautiful life, that definitely deserved few more years.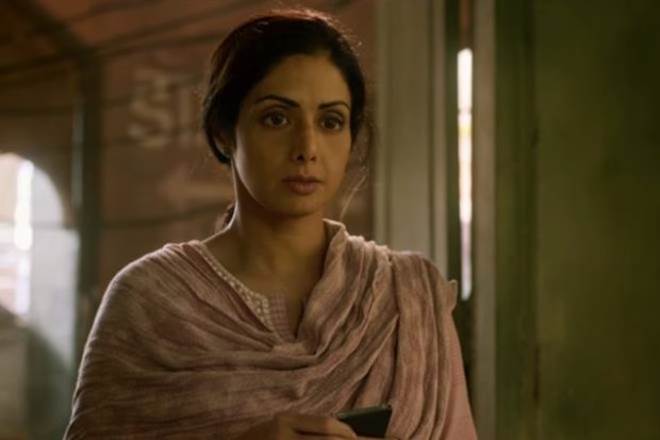 Just as the lines in her classic "Moondram Pirai" goes 'Yeno deivam sathi seithathu pethai pola vithi seithathu!!' , the Gods must have probably conspired to take away the Life of the simple girl from Sivakasi, who had initially been skeptical of her Bollywood debut, and rose to fame, scaling peaks of superstardom, on par with heroes,and ultimately ended, giving Indian cinema an irreparable loss, leaving fans with cherished memories of her beauty, performance, and that unforgettable , infectious smile.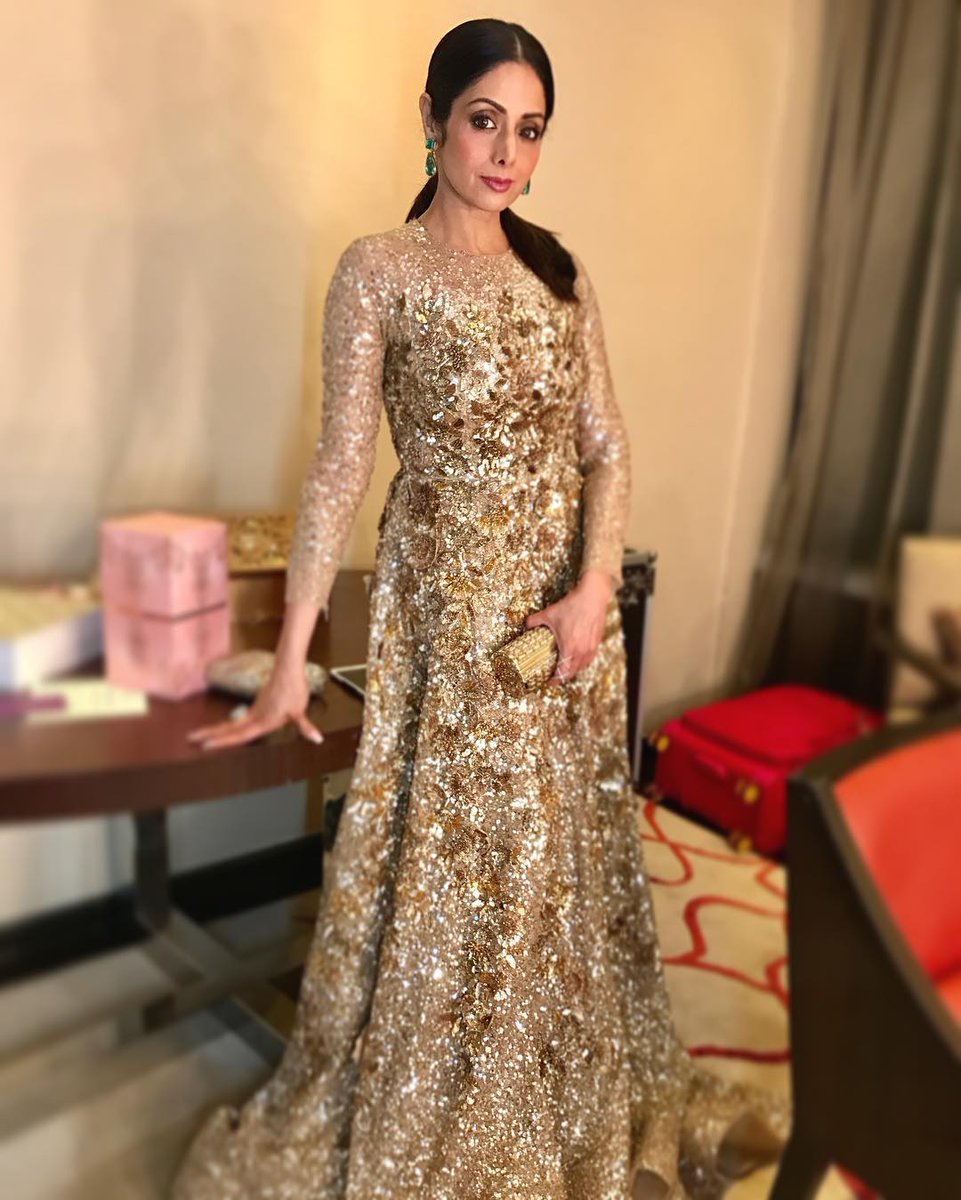 Rest in peace, Sridevi - You're a dream girl, Forever!
మరింత సమాచారం తెలుసుకోండి: