Rahul gandhi in Cambridge: 'Modi's 2-3 Policies Good!!!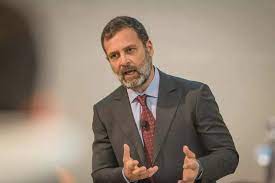 Former congress President rahul gandhi is considered one of the biggest critics of prime minister Narendra Modi. Due to being the leader of the main opposition party in central power, sharp verbal attacks are made on PM Modi on daily basis by Rahul. He also strongly condemns the decisions of prime minister Modi. Despite this, two schemes of PM Modi are such that even rahul cannot live without praising them. He praised these two schemes even on foreign soil and has described himself as a fan of these schemes. During the question-answer session with the students at Cambridge university in Britain, rahul has described the schemes of PM Jan Dhan Yojana and Ujjwala scheme of the Modi government as very good.
Students had asked questions to Rahul
In fact, when rahul was answering the questions of students at Cambridge university, a student asked him a question related to PM Modi. The student had asked that if he is asked, which two schemes of the Modi government would he name, from which people have benefited. On this, rahul took the name of PM Jan Dhan Yojana and Ujjwala scheme. He said, opening women's bank accounts and giving them gas cylinders is a good thing.
Modi is imposing his views on India
Although rahul also criticized many policies of PM Modi during this conversation. He said, according to me, Modi is destroying India's infrastructure. They are imposing their views on the country. So I am not thinking too much about his 2-3 good policies.
Once again raised the issue of phone spying
Rahul once again raised the issue of spying by putting spy software 'Pegasus' in the phone in front of Cambridge students. He said, I and many other opposition leaders had Pegasus in their phones. I was warned about this by the intelligence officers themselves and asked to be careful while talking on the phone.
మరింత సమాచారం తెలుసుకోండి: