Khalistani supporters pulled down indian Flag in London-P2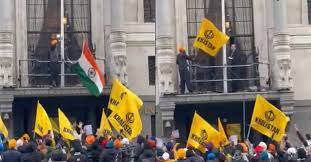 Answer sought from british diplomats
The senior british official in New delhi was called late this evening to express India's vehement protest against the action taken by separatist and extremist elements against the indian High Commission in london, according to the Ministry of External Affairs. The UK was questioned about why there were no security precautions in place, which allowed these forces access to the High Commission buildings. The diplomat was reminded of the UK government's fundamental duties under the Vienna Convention, according to the Foreign Office.
The ministry wanted quick action to locate, apprehend, and prosecute those responsible for the incident. "It is expected that the UK government will take immediate steps to identify, arrest, and prosecute everyone involved in this incident," the Foreign office stated. "They will also take strong steps to prevent the recurrence of such incidents."
I condemn today's despicable actions against the indian High Commission Complex in london and the residents there, alex Ellis(High Commissioner) wrote in a tweet. This is wholly inappropriate. The footage revealed that numerous individuals were scaling the "India House" building and broken windows. Video from the scene shows an indian official snatching a flag from a protester who was waving a Khalistan flag from the High Commission's first story window. Although it has gotten information about an incident in the area, london Police's "Scotland Yard" has not yet released an official statement.
మరింత సమాచారం తెలుసుకోండి: