Amritpal Singh, a supporter of Khalistan subject to NSA-P2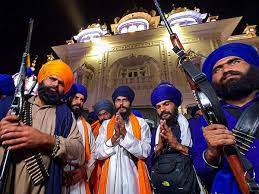 Amritpal Singh was subjected to NSA pressure, and the authorities have thus far reported that he changed vehicles to flee. The punjab police squad has also been given a video of Amritpal Singh in which he is seen changing the car.
The strict National Security Act (NSA) has been used against Amritpal Singh, the punjab administration informed the high court on Tuesday. Amritpal Singh, the leader of "Waris punjab De" and a backer of Khalistan, is still at large. In response, the high court questioned what the government had been doing up until this point when Amritpal posed a danger to national security. Armed, they were running around. How, in the face of so many cops, did he manage to flee? What are 80,000 police officers doing when the nation's security is at risk. The government's response to this was that it is acting after carefully considering all relevant factors.
Continuation of part 1...
2. NSA action completed, will be arrested soon
IG Gill told that the action to detain Amritpal Singh under NSA has been completed. A non-bailable warrant was issued against him on march 18 itself. He said, the police is doing its work according to the law. people have doubts because the main accused (Amritpal Singh) has not been arrested yet. If he is arrested soon, we will inform you.
To be cotinued in part 3...
మరింత సమాచారం తెలుసుకోండి: