In the National Institute of Ranking Framework (NIRF) rankings, which were issued by the Department of Higher education, Union Ministry of education on Monday, top-tier educational institutions from hyderabad have maintained their exceptional performance.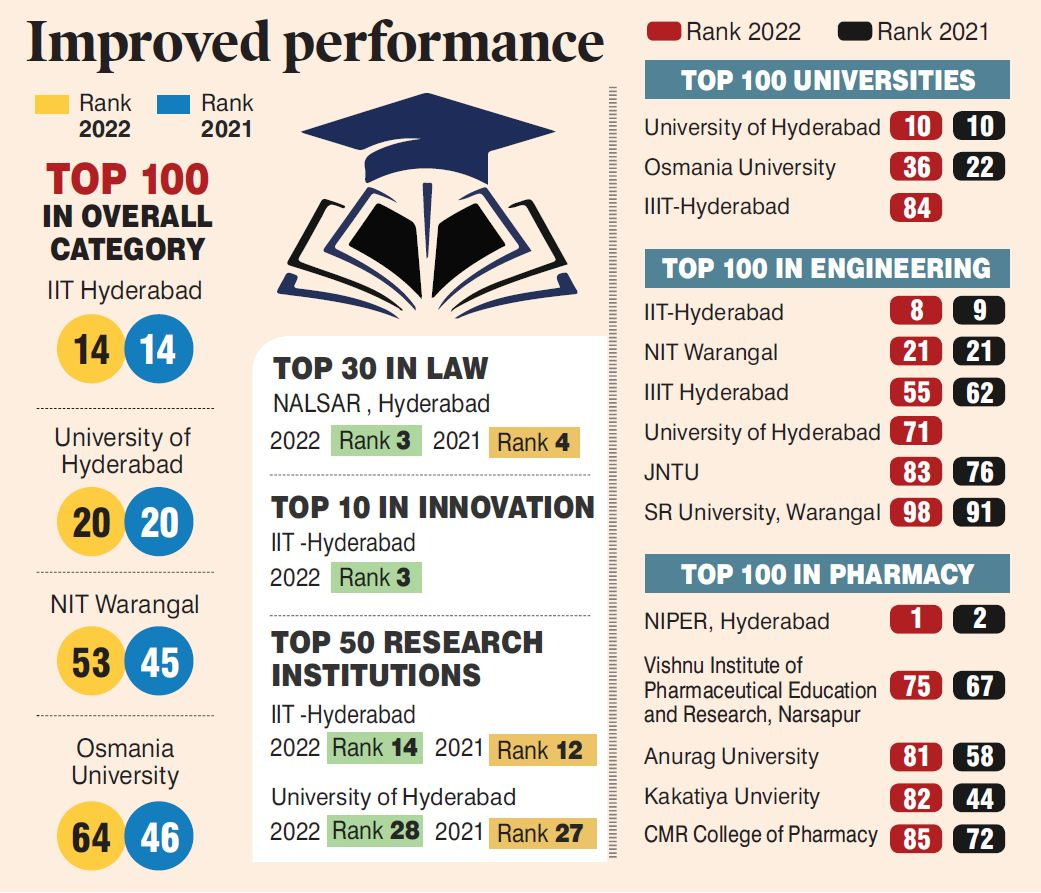 The indian Institute of technology (IIT), hyderabad, and the university of hyderabad (UoH) have maintained their positions of 14th and 20th overall in the top 100 rankings of academic institutions from the previous year. The prominent National Institute of Pharmaceutical education and Research (NIPER), Balanagar has improved this year to reach number one place in india in the top 100 pharmacy category.
The university of hyderabad has also maintained its position in the top 100 universities in all of india at number 10, while IIT-Hyderabad has moved up one spot in the top 100 engineering schools in the nation, from ninth to eighth. The Osmania university, which was listed as the 22nd best university in india last year, is now placed as the 36th best university in India.
Major telangana engineering institutions have improved in the NIFR rankings for technical education. IIT-Hyderabad, which was rated ninth last year, has moved up to eighth place, while NIT warangal has maintained its status as the 21st-ranked institution in India. The international Institute of Information technology (IIIT, Hyderabad), which was placed 62nd previous year, is now ranked 55th in the same category. The JNTU-Hyderabad, which was placed 76th the previous year, has dropped to the 83rd spot on the list of the best engineering colleges.

The National Academy of Legal Studies and Research (NALSAR), headquartered in the city of hyderabad, has been placed third nationally among the top 100 law schools, while the IIT-Hyderabad is ranked third among the top 10 institutes most renowned for their innovation.







మరింత సమాచారం తెలుసుకోండి: