EPS Vs OPS: The new top post of the party was created with the responsibility of coordinator and given to O. Panneerselvam and co-coordinator Edappadi Palanisamy.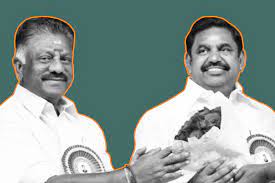 Edappadi Palanisamy Vs Panneerselvam
Edappadi Palanisamy was elected leader of the Opposition after the DMK came to power at the end of his tenure. However, it is not uncommon for the occasional clash between Edappadi Palanisamy and O. Panneerselvam to come to light. In that sense there has been conflict in the selection of candidates in the recent state elections. In this context, a meeting of district secretaries was convened at the AIADMK headquarters to discuss the AIADMK general body meeting. Then single leadership was discussed.
Supporters of the OPS-EPS faction argued fiercely inside the crowd. In this context, the meeting of the committee finalizing the resolution for the General assembly is scheduled to take place today. According to reports, a separate resolution will be finalized to elect Edappadi Palanisamy as General Secretary. O. Panneerselvam's supporters are likely to protest, and today's meeting is highly anticipated.
AIADMK General Body Meeting
Meanwhile, Suryamoorthy, a resident of Dindigul, filed a petition in the chennai Licensing court seeking a pre-trial hearing in the case seeking an injunction against the AIADMK general body meeting. The petition states that there is a possibility of riots if the AIADMK general body meeting is held. However, the EPS said that Suryamoorthy was not a member of the AIADMK and that his petition should be rejected. The OPS filed a letter in the court seeking a letter from co-ordinator Edappadi Palanisamy asking it to adjourn the meeting.
Following this, the court adjourned the hearing to Tuesday, ordering all the petitioners to file a reply petition. Edappadi Palanichamy's party has decided to hold a public meeting despite opposition from the OPS. It is unknown at this time what he will do after leaving the post. In this situation, Edappadi Palanichamy had spoken at a meeting of the AIADMK ID Wing last 7 days last night. Edappadi Palanichamy has accused some people of trying to bring down the AIADMK. There is no history of the AIADMK falling.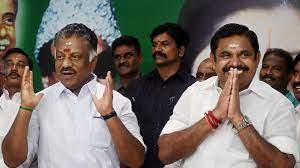 Edappadi's master plan
We will save the party. He said he would work with you to ensure the good future of AIADMK. AIADMK chief AIADMK general secretary Edappadi Palanichamy is reported to be in the process of drafting the resolution. Sasikala has been claiming to be the AIADMK general secretary from outside the party because the AIADMK currently has a dual leadership. If Edappadi Palanichamy becomes General Secretary, Sasikala will not have that opportunity anymore. At the same time, the Edappadi Palanisamy faction thinks that the OPS will not have a chance to join the AIADMK.
మరింత సమాచారం తెలుసుకోండి: