NATO deployed 4 Rafale fighter jets...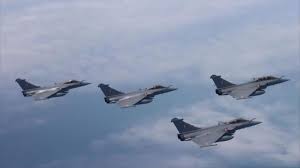 Europe is also cautious about Russia-Ukraine war and increasing attacks of Russian army on Ukraine. In such a situation, from the point of view of security, four Rafale fighter jets of NATO 30th fighter Wing have been deployed in the eastern part of Europe. Their mission will cooperate in the surveillance and defense mission of the Baltic country's airspace. 
The French air Force has given information about this aggressive stand by chirping. Earlier, the French Defense Ministry had said that as part of the NATO military build-up to protect the airspace over the Baltic countries, paris would deploy four Rafale fighter jets to lithuania from november 25 and the aircraft had arrived in lithuania under this.
"France will deploy four Rafale fighter jets to lithuania under NATO mandate from november 25. They will carry out airspace security tasks in the Baltic countries," the ministry said in a statement. According to reports, Rafale fighter jets have actively participated in air Force exercises from europe to Asia Pacific. The French air Force had previously conducted the first phase of a large-scale deployment of long-range air assets in the Asia-Pacific region.
All these fighter planes are dangerous
The first phase of deployment started in france on 10 August. The French air Force began deploying jets with long-range firepower for air defense in the Asia-Pacific region. In a statement, NATO said that an air task force composed of three Rafale fighters, two A330 MRTT Phenix air-to-air refuelers, and two A400M cargo aircraft successfully completed the mission in less than 72 hours.
Croatia is negotiating with France
Regarding this mission, Croatian Defense minister Mario Banojic has said that in the meantime, croatia is negotiating with france on the purchase of short-range air defense systems as part of its national defense strategy. He said that on Germany's initiative the participating countries are being prepared with the Arrow 3 or Patriot air defense systems as part of the european Sky shield initiative.
మరింత సమాచారం తెలుసుకోండి: