India-China border: Where is China's position strong?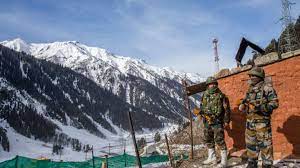 According to reports, China's position is strong in Chushul, Black Top, Helmet Top, Demchok, Kakjung, and Gogra Hills in Hot Springs and Depsang area near Chip Chap river. The research paper claimed that by september 2021, senior officials of the district administration and security forces were able to easily patrol the Karakoram Pass in the DBO sector. It is 35 km away from Daulat Beg Oldie. Gradually, the conditions in these areas worsened. In december 2021, the indian Army banned the check post on DBO, so that no one could go till Karakoram pass.
Why are the talks of the armies remaining inconclusive?
The worst side of the talks between india and china is that india gets ready to accept the points of an agreement but china does not do so. In december too, talks were held between india and china on the eastern Ladakh border, but china does not want a solution to the issue. It was said on behalf of both countries that this dispute will be resolved only through dialogue so that security and permanent peace can be restored. 17 rounds of high-level talks have taken place in 11 days, but a permanent solution is not visible.
What is India's preparation?
India is increasing its military presence in the border areas. Every area of Ladakh is now under the radar of the indian Army. Roads have been made on the borders in such a way that in any war situation, the opponents can be overpowered. Still, the country needs a peaceful resolution of disputes. india wants a peaceful solution to the border dispute with China.
మరింత సమాచారం తెలుసుకోండి: