FIR against baba Ramdev for hateful speech on Muslims...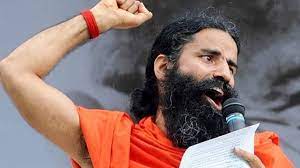 There is an uproar in the country over the controversial remarks made by yoga Guru Ramdev on islam and Muslims. His statement is being opposed in many states of the country. A case has been registered against Ramdev in Rajasthan's Barmer district. According to the information, an FIR has been registered against baba Ramdev in Chohtan police station under the charges of hurting religious sentiments and disturbing social harmony.
In the complaint given at the Chohtan police station, it was said that during the pran Pratishtha program of the temple of Saint Dharmapuri Maharaj in village Puniyo ka Tala of Barmer district, Ramdev made remarks that hurt the faith of islam and its followers. His statement created a feeling of enmity and hatred towards Muslim religion in other religions or communities. police has registered a case against baba Ramdev under sections 153A, 295A and 298
Complaint lodged in Tonk as well
Earlier, Muslim society and advocates in Rajasthan's Tonk collectorate protesting against Ramdev and lodged a complaint in Kotwali police station. The State Minorities Commission also expressed strong displeasure over Baba's remarks. Comparing hinduism with islam and christianity, Ramdev had said that Muslims pray five times a day and then do whatever they want.
What comment did baba Ramdev make?
Ramdev had said on thursday in a meeting of saints in Barmer, Rajasthan, 'Ask any Muslim what your religion says. He will say that just read Namaz five times and then do whatever comes to your mind. Whether you pick up the girls of Hindus, do whatever sin you want to commit, they consider islam to mean Namaz. 
మరింత సమాచారం తెలుసుకోండి: