Canada is not seeking to escalate the situation with India...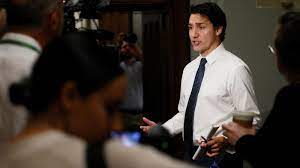 Canada will continue to engage with New delhi "responsibly and constructively," according to Canadian prime minister Justin Trudeau, who was quoted by Reuters on Tuesday. canada is not seeking to escalate the situation with India. Trudeau's comment comes amid a diplomatic dispute with New delhi that began when Ottawa expelled an indian diplomat over the june murder of Khalistani terrorist Hardeep Singh Nijjar. Trudeau had stated that there were "credible allegations of a potential link" between the june 18 murder of Nijjar in Surrey and indian government agents.
The Canadian prime minister made his statement on the same day that india requested canada remove a number of dozen diplomats from its missions there. The Canadian government was informed about the need for "parity in strength and rank equivalence" in mutual diplomatic presence, the External Affairs Ministry reported last month.
S. Jaishankar, the external affairs minister, made reference to canada on sunday while speaking with journalists in the US. He said it was important to condemn acts of violence, threats, and intimidation against indian diplomats and missions, and he questioned whether the world would have reacted in the same way if this had occurred in any other country. "...Our point is that there is an atmosphere of intimidation and violence today.Just consider it. Smoke bombs have been thrown at the mission. Our consulates have witnessed violence in front of them. people have been intimidated and targeted. people are the subject of posters, he claimed.
మరింత సమాచారం తెలుసుకోండి: