Happy Ugadi 2023 Wishes: Send these wishes on Ugadi festival..!

The Ugadi festival is celebrated on 22nd March. It is believed that whatever is started on this day will be successful. The festival known as Ugadi or Yugadi is celebrated as the birth of the telugu year. This festival will be celebrated in tamil Nadu's neighboring states like Andhra Pradesh, Telangana, Karnataka, and Maharashtra. According to Hindu scriptures, Ugadi is celebrated as the day when Lord Brahma started his creative career. As tamil and malayalam months are calculated based on the movement of the Sun, telugu, and kannada months are calculated based on the movement of the Moon. Such a telugu birthday day is called the Ugadi festival. On this day they have the habit of reading Panchangam like tamil New Year. On this day, Kolams and malai thorans should be done in the house. It is not only a telugu birthday but also a good day for the Ugadi festival. Worshiping Ganesha on this day will bring many benefits.

Here are Ugadi Wishes that you can send to your family, friends, and loved ones..!

• May the festival of Ugadi send happiness in your life this year.

• Best wishes to you on your path to happiness and prosperity!

•  May Lord Ganesha fulfill all your dreams!

• Let us welcome Ugadi with great faith, enthusiasm, and anticipation. Let us hope for abundant happiness, fulfillment, peace, and wealth in the coming times. Happy Ugadi.

• May your life shine like the lamps lit in Ugadi. Happy Ugadi to you.

• May all your dreams come true on the Ugadi festival and may things happen as you wish. May this New Year herald the arrival of prosperity for you and your family. Happy Ugadi!

  .Let the taste of mango, neem, and jaggery remove all bitterness from your life and add sweet flavors to your life. Happy Ugadi!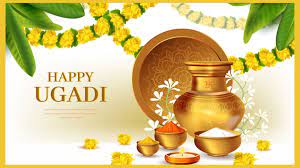 • Fortunate is he who learns to admire without envy. Wish you a prosperous Ugadi.
• Face life with a mix of joy and sorrow, like a sweet and sour Ugadi cake. On this Ugadi festival, I wish you success in every aspect of life. Happy Ugadi!

మరింత సమాచారం తెలుసుకోండి: