CWG 2022: First indian woman to win a medal!!!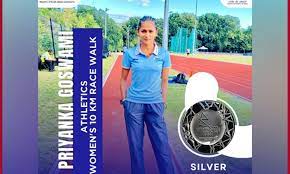 In the Commonwealth Games 2022, priyanka Goswami has illuminated the name of the country by winning a medal. She has won silver medal in 10 km race walking. This medal for priyanka is special in many ways. This is not only her first medal of any major international tournament, but also a big turning point in her career. Before winning the medal for the country, prime minister Narendra Modi himself has also saluted Priyanka's spirit. He also praised priyanka a lot in the radio program 'Mann Ki Baat'. priyanka has seen many ups and downs in her career and it is only after hard work that she has reached this point today.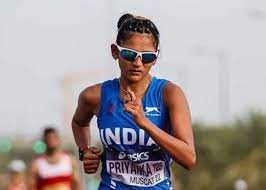 How was the career journey?
The story of her life is really inspiring. She faced a lot of financial constraints before achieving success and continued hard work despite all the troubles. Priyanka's father has worked as a bus conductor and supported the daughter in every difficult moment. priyanka of Garhmalpur village of Fugana police station area of muzaffarnagar district of Uttar Pradesh did her early education from a government school. In 2006, her family settled in Meerut.
Priyanka had also participated in the tokyo Olympics before the Commonwealth Games and had traveled to the finals here too. She has won many medals at the national level in five, ten and 20 km races. She also made an unmatched record in the 8th Open and Third international Race Walking championship held in february 2021. She made the record by completing the race in one hour 48 minutes and 45 seconds.
మరింత సమాచారం తెలుసుకోండి: