Why an award for Rajini's film..!? Sensational talk..!?

Famous tamil film director Aameer has criticized the state award given to actor Rajinikanth for his film 'Sivaji' saying that all the awards given now are lobbying. Aamir made his debut as a director with the movie 'Mounam Pesiyadhe' released in 2008. His first film was well-received, followed by films like Ram, Paruthiveeran, Aadi Bhagavan, etc. Especially the 2007 film Paruthiveeran starring actor karthi directed him won various awards. Similarly, the actress priya who acted in this film also won the National Award for Best Actress. Aameer, who has recently been busy acting in addition to directing films, attended the trailer launch of the web series 'Sengalam' which will be released on zee5 ott on the 24th.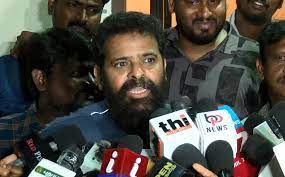 Then the director of the Sengalam web series SR Prabhakaran said that he wrote the story of this death series thinking of him and said that the series will definitely be a success and congratulated all the actors like vani Bhojan, Daniel, VG Chandrasekhar, etc. Later, the reporters asked Aameer about the oscar award, to which Aameer gave a very simple answer and said that the oscar award is a national award given in that country. Similarly, why was sivaji Ganesan, considered the best actor in India, not given a National Award?
 He questioned shivaji in the film Devar Magan and was given a special award. But shivaji who spoke in this regard said that this was not given but was forced by our men in that group.So 30 years ago all the best awards were done. He criticized that the awards given now are all lobbying. Likewise, Rajinikanth was awarded the State government Award in the Best Actor category for his performance in the 2007 Superstar Rajinikanth-starrer sivaji directed by Shankar.
Can you say Rajinikanth who acted in this movie is the best actor? He questioned. Rajinikanth, an entertainer is just that. Rajini's best-acting films are Mullum Malarum, Aaril Irundhu Arubadhu Varai, etc. But why were those films not given a national award? Presently all the awards are lobbying. Aameer's controversial statement is being watched sensationally.
మరింత సమాచారం తెలుసుకోండి: