Shweta Tiwari was seen chilling in the pool with her son Reyansh wearing a bikini, the netizen said- 'Shame'
Recently, tv actress shweta tiwari has raised the temperature of the internet with her hot pictures in a bikini. However, she has also become trolled for this. shweta tiwari was seen chilling in the pool with her son Reyansh wearing a bikini, the netizen said- 'Shame'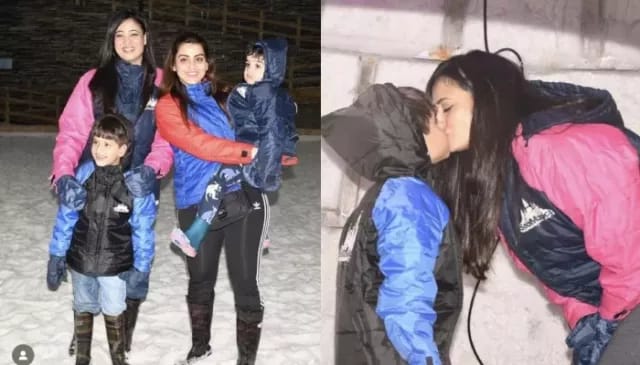 Popular actress shweta tiwari is one of the prominent names who has been a part of the entertainment industry for more than two decades. Apart from being a brilliant actress, she is also known for her unique fashion sense. Shweta is very active on social media and has more than 4 million fans on Instagram. She likes to give a glimpse of her fabulous life to her fans. Well, looks like Shweta Tiwari's age has come to a standstill and her recent pictures are proof of the same.
Shweta Tiwari shared some glimpses of her wonderful day with her son Reyaansh from her insta handle. The bindaas maa took a break from her busy shooting schedule and was seen taking a dip in the swimming pool with her baby boy. Shweta was looking very hot in a pink color bikini. She had fun with her son and raised the temperature with her look. Sharing pictures from her outing, the actress wrote, "A day off."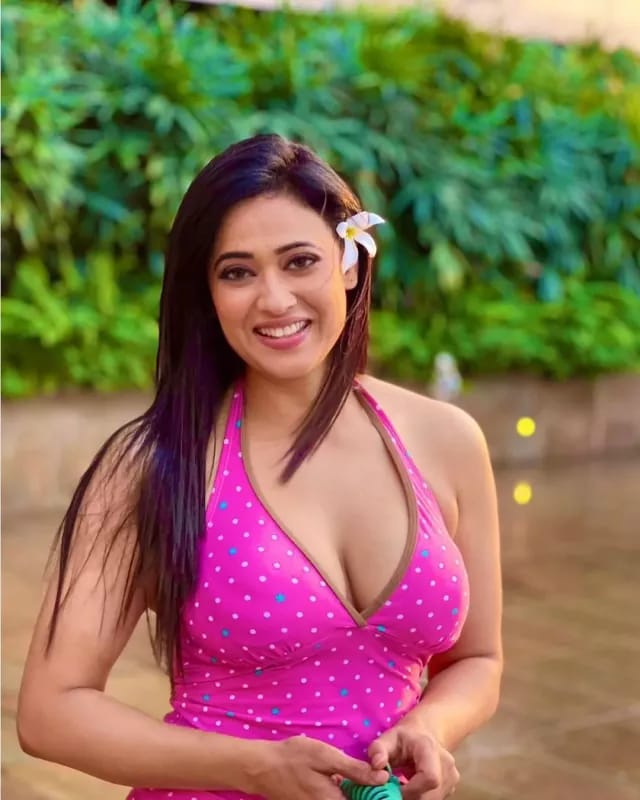 As soon as Shweta shared her hot pictures on social media, her fans started praising her for her fit body and beauty. However, her recent pictures have not gone down well with some netizens, who body-shamed the actress over her age.
Reacting to her pictures, a user commented, "The children have grown up Shweta ji, have some shame, you are showing your body, wrong thing, explain to the daughter, she also posts dirty pictures." At the same time, another user wrote, "You will get your own daughter's shop closed." See user reactions here.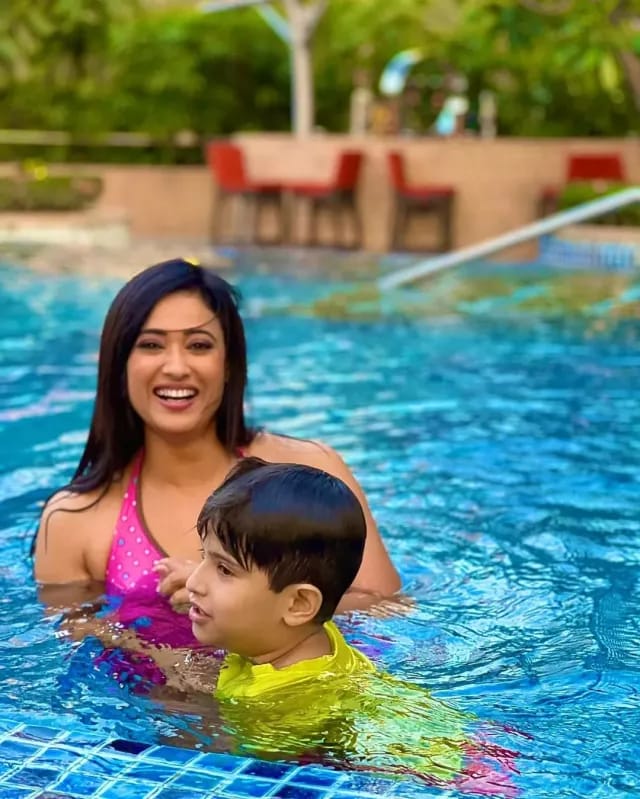 By the way, this is not the first time that Shweta has been trolled on social media for her pictures. Earlier, on november 30, 2022, the actress had wished her son Reyaansh his sixth birthday with multiple pictures from a theme park. The mother-son duo was seen celebrating the special day. Both were involved in ice skating, swimming, and many other fun activities at the amusement park.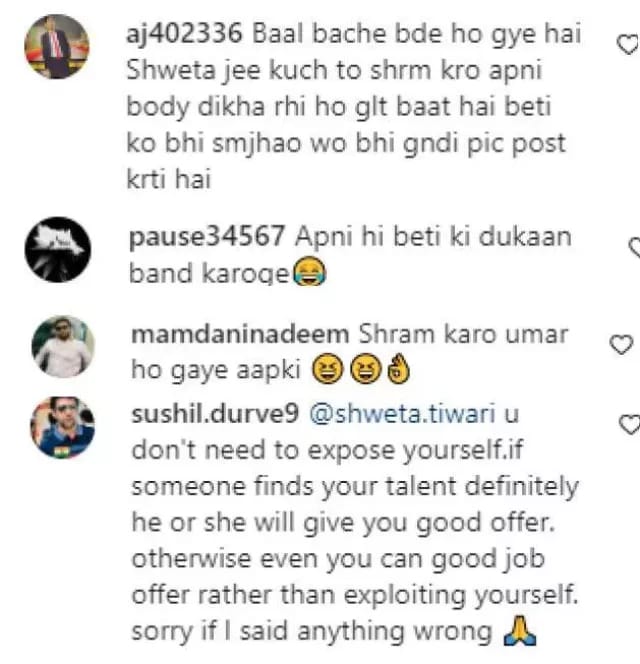 However, one picture that netizens didn't like was the one in which Shweta kissed Reyaansh on the lips. As the pictures went viral on the internet, people started trolling the actress for kissing a six-year-old boy on the lips.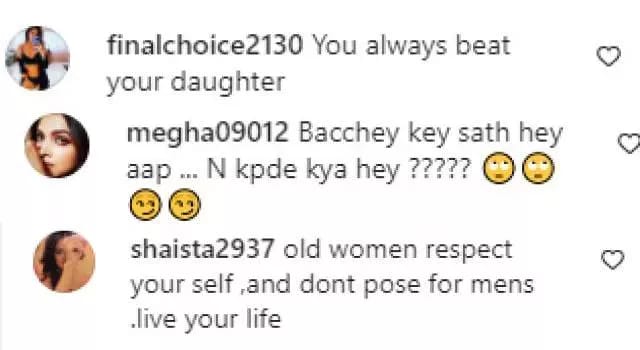 Where shweta tiwari is a popular actress who has a huge fan following. At the same time, his personal life has been full of ups and downs. The actress got married to raja Chowdhary at the early age of 18. They both have a daughter named Palak Tiwari, who was just 12 years old when they got divorced.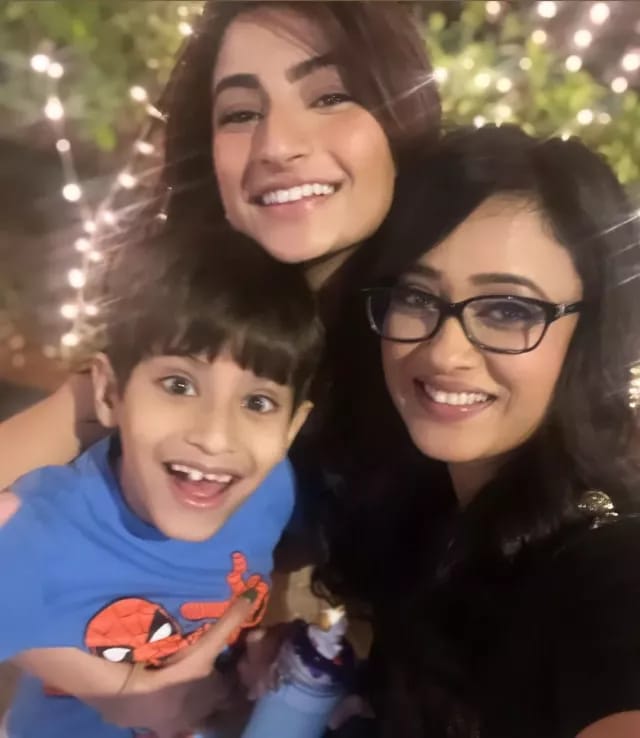 Later, Shweta gave love a second chance when she married Abhinav kohli in 2013. However, she separated from him in the year 2019 due to him being physically violent and threatening her. Both have a son Reyansh kohli, who lives with his mother.
మరింత సమాచారం తెలుసుకోండి: