PM Modi announces 6G test bed: What is 6G Test bed?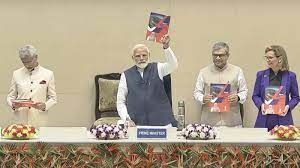 On Wednesday, prime minister Narendra Modi unveiled the 6G test bed and published the Bharat 6G Vision document. The government anticipates that this will encourage innovation, capability growth, and quicker technological adoption in the nation.
On Wednesday, prime minister Narendra Modi officially inaugurated the new international Telecommunication Union (ITU) regional office and innovation center. PM unveiled the Bharat 6G Vision document and inaugurated the 6G R&D Test Bed at the event. "I'm glad that on the first day of the new year, india is experiencing a remarkable beginning in terms of telecom, ICT, and associated innovation. In his inauguration address, PM Modi mentioned the launch of the 6G testbed.
Bharat 6G Vision document
The technology Innovation Group on 6G (TIG-6G), which was established in november 2021 to create a roadmap and action plans for 6G in india, is responsible for creating the Bharat 6G vision paper for the indian government. Among the members are officials from Ministries/Departments, specialists from research and development organizations, academic institutions, standardization agencies, telecom service providers, and businesses.
6G Testbed
The 6G evaluate Bed will give a variety of organizations a platform to evaluate and validate developing ICT technologies, including academic institutions, business, start-ups, MSMEs, and industry. According to the Centre, the Bharat 6G Vision Document and 6G Test Bed will foster an atmosphere that will promote innovation, capacity development, and a quicker adoption of technology in India.
మరింత సమాచారం తెలుసుకోండి: