Kumar Vishwas-Manju love Story: Fell in love while teaching in college, had to roll papads for marriage
Here we are telling you about the love story of popular hindi poet Kumar Vishwas, which is no less than a film story.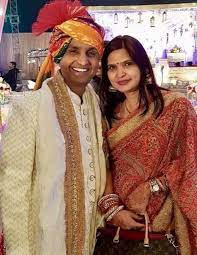 Popular hindi poet Kumar vishwas is known for his famous poem 'Koi Deewana Kehta Hai, Koi Pagal Samjhata Hai'. It was this poem that cemented his special place in millions of hearts. Don't know how many young hearts have been affected by this poem full of love. Hardly people would know that the love story of Kaviraj vishwas also started with poetry or simply say that he became a poet after being madly in love.
This is how Kumar vishwas first met his love Manju
The love story of Kumar vishwas and his wife Manju Sharma is no less than a film story. Actually, it so happened that Kumar Vishwas's father, Dr. Chandrapal Sharma, who was the spokesperson of 'RSS degree college Pilkhuwa', was born in Pilkhua, Uttar Pradesh, and wanted his son to become an engineer. For this, Kumar also took admission in engineering at his behest, but soon he came to know that he had no interest in technical studies.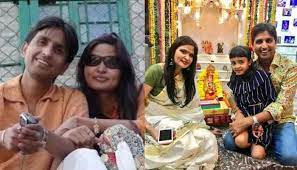 In such a situation, he left engineering and turned to hindi and after completing his studies, in 1994, he got a job as a hindi lecturer in a college in Rajasthan. It was here that he met Manju Sharma, who was a lecturer in the same college. After meeting everyday, a good relationship was formed between the two and love blossomed between the two.
However, Kumar Vishwas's poems had a special role in making their love blossom, which he started writing for Manju. What was it then, Manju was deeply moved by these poems of vishwas and her love for vishwas deepened. After this both of them decided to get married. Unique house of Kumar Vishwas: Poet has built his house in village style,

The road to marriage was not easy for vishwas and Manju
Both Manju and vishwas wanted to get married, but their path was not easy at all. The cast of both was also different, in such a way both of them knew that it would not be easy to convince the family members for marriage. That's why both of them first did the court marriage and then told the family members.
Both the families strongly opposed their marriage. Vishwas's father refused to give him entry in the house. After this both started living in a rented house. However, two years later, when Kumar's elder daughter was about to be born, she got an entry into his house. Now Kumar vishwas is enjoying his life happily with his family.

Well, it is known to all that the path of love is never easy and Kumar vishwas is no different from it. However, Kumar never gave up on persuading his family members and finally managed to convince his family for a relationship with his wife Manju.

మరింత సమాచారం తెలుసుకోండి: