Rakhi Sawant: rakhi sawant became Fatima, the ghost of islam disappeared, she started showing off her burqa.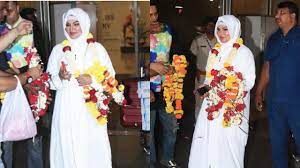 Rakhi Sawant: rakhi sawant had said in front of the media that people should call me Fatima and not Rakhi, at that time she was in hijab and burqa. But after a few days, Rakhi's old avatar has again come in front of the people.
 

Rakhi Sawant: Rakhi had gone to Madina with her two friends to perform Umrah. After seeing rakhi sawant, the fans could not believe that rakhi sawant, who was always seen in a fun-filled manner, has now changed. He had transformed himself according to Islam.

Many of her pictures without makeup and wearing burqa went viral on social media. Rakhi has also posted many videos on instagram Story. In these videos, rakhi sawant is asking fans to call her Fatima. But the ghost of islam left Rakhi's mind and she again adopted her old avatar. After which she became the target of trolls.

Recently rakhi sawant shared a video of herself in gym athleisure on Instagram. The video, which has gone viral, shows Rakhi wearing a gray gym athleisure outfit, striking various poses.

After seeing this, people raised eyebrows and netizens soon bombarded them with comments and questions. One user wrote, "You will not improve." Another user asked her, "Where has your burqa gone didi?" A third user wrote, "Why are you making a joke about it?"

Another user wrote in the comment - "This aunty has come after performing Umrah, she shed crocodile tears after going there and started dancing again, Aunty Rakhi, belong to any one religion and made fun of everyone. Sometimes it is Hindu, sometimes Muslim, sometimes Christian.

Rakhi had adopted Islam.
Rakhi had adopted islam to marry Adil Durani. She has repeatedly said that she has completely converted to Islam. Recently he had also kept fast. Rakhi had given up western clothes some time ago also. She was seen wearing only a suit, but as soon as Adil went to jail, Rakhi came back in her old avatar.

As soon as Adil Durani accuses her after being released from jail, she is returning back to the path of religion. After watching this video of Rakhi, many people are making fun of Rakhi. Many people say that Rakhi is doing all this for publicity.

మరింత సమాచారం తెలుసుకోండి: