Budget 2023: A bad news for cigarette smokers...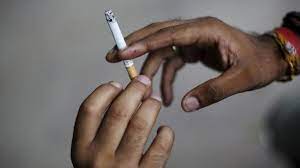 Nirmala Sitharaman, the finance minister, announced a 16% hike in the National Calamity Contingent Duty (NCCD) on cigarettes on Wednesday.
In the budget of the year 2023-24, the prices of many things have increased while the prices of some things have also come down. Finance minister Nirmala Sitharaman said that the tax on cigarettes has been increased by 16 percent. This is bound to increase the price of cigarettes as well. There has been an uproar on the social media as soon as the discussion about the increase in the price of cigarettes has been heard. The Memes gang has created a lot of hue and cry. Along with cigarettes, the tax on all tobacco products has been increased.
There is a lot of discussion on social media since this morning about the budget, income tax, inflation and other things related to the budget. Budget-related trends are in constant discussion on Twitter. Such a big incident should happen in the country and memes should not go viral, how can this happen. Here are some great memes made on rising cigarette prices:
If the prices continue to rise like this, then in a few days every goldsmith's shop will get a drag.
మరింత సమాచారం తెలుసుకోండి: