World Poetry Day: history & Importance...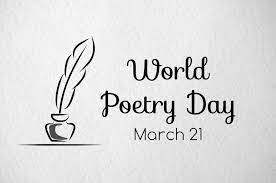 One of the most well-known days that falls in march is World Poetry Day. Tuesday, march 21, 2023, is designated as World Poetry Day. Every year on march 21, this day is honored, and it is well-liked. Poetry is a significant form of art that fosters creativity and improves verbal and written communication. people enjoy commemorating this day because it allows them to be original and inventive. Everyone should be more aware of poetry's significance.
World Poetry Day is observed not only in english but also in other official languages of the world. Many people all over the globe observe this day because it encourages them to learn more about poetry. It is significant to note that different events and activities are planned around the globe to commemorate this day.
The World Poetry Day activities attract a large number of poets. They exhibit creativity by reciting original poems that they have composed. On World poems Day in 2023, we should work to increase public awareness of poems and well-known poets. Poetry is regarded as the foundation of human existence and living. Many poets use poetry to express their feelings and ideas. The purpose of World Poetry Day is to inform people of the significance of poets and their writings.
History and Significance
The United Nations Educational, Scientific, and Cultural Organization established and first celebrated World Poetry Day. The purpose of World Poetry Day is to promote intercultural and international dialogue. "Always be a poet, even in prose" is the Theme for World Poetry Day in 2023. Poetry is rife with emotions, ideas, and notions.
మరింత సమాచారం తెలుసుకోండి: