Taapsee Pannu in S*xy Bikini sets internet ablaze!!!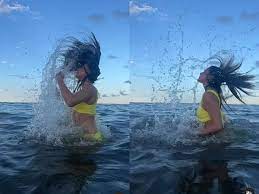 With her most recent video, which she shot while on vacation in Miami, taapsee pannu has raised the temperature. She is drawing attention as she enjoys a swim in the ocean while rocking a bikini. A video has drawn the interest of viewers. The topic of conversation around town is Taapsee's vacation misadventure.
Taapsee is seen in the video on a vacation in Miami. She looked stunning in a chic bikini in the colour yellow. On social media, the video has become very popular. "Miami you beauty," the caption reads. Following this, she posted a collection of images from her month-long vacation with the comment "Over and out." She had previously posted a collection of images showing her touring Hogwarts. She can be seen writing "Unlocking The Inner Teenager Within" on the famous Hogwarts wall in one picture. She was pictured in another image holding a wand as she stood in front of a store.
She recently travelled to New York. The actress looked fierce while touring the city with her sister Shagun Pannu and beau mathias boe in a saree and trainers. The Thappad actress was wearing a lovely purple saree along with a white crop top in the images she posted on her instagram stories. It has a contemporary twist because she is also sporting a white trainer.
మరింత సమాచారం తెలుసుకోండి: