Famous director hospitalized after suffering a heart attack..!?

Famous director Naga was admitted to the hospital due to a heart attack and is undergoing treatment, which has shocked the fans of the small screen and the silver screen. Many of the serials he has directed are some of the wonderful works that have never left the fans' minds. Especially, he has directed serials such as Marma Desam, Shyapam, Vidadu Karupu, Anyi Achalamam, chidambaram Siyapam, and Yamiruka Payaman, which were aired on SunTV.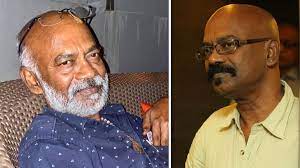 He has also directed the film 'Ananthapurathu Veedu' starring Nanda and Sayasingh produced by director Shankar on the silver screen. Apart from being a director fro many serials, he has also worked as a cinematographer for many films. Currently, he is doing a web series by directing it for an OTT site. While shooting for this web series, he suffered a heart attack in the spot and collapsed on the shooting spot. Following this, the film crew and his team immediately rescued him, gave him the necessary first aid treatment, and then admitted him to a nearby famous private hospital. Following this, the doctors continued to treat director Naga. This incident has created a great panic and sensation in the film industry.
మరింత సమాచారం తెలుసుకోండి: