Krishna Mukherjee reached seychelles for their honeymoon, husband Chirag made fun of her dish choice
TV actress krishna Mukherjee has gone to seychelles in east Africa for a honeymoon with her husband Chirag Batliwala. Recently, he shared some glimpses from there. 
Krishna Mukherjee  Honeymoon:  'Ye Hai Mohabbatein' fame actress krishna Mukherjee married her long-time boyfriend Chirag Batliwala on 13 march 2023 in Goa. The couple took seven rounds following bengali rituals in the presence of family and friends against the beautiful backdrop of the setting sun.
Krishna Mukherjee went on a honeymoon
The couple recently celebrated their first Navroz together after a grand wedding. Now, the couple is off to seychelles for their honeymoon. As soon as they reached their hotel for the journey. krishna and Chirag order their first meal. Chirag jokes about Krishna's noodles and says, "Is 1800 rupees Maggi kha rahi hai." Its video has also been shared by krishna from his insta story.
Later krishna waits to spend time with her husband, but Chirag finds kids playing with the drone and joins them in flying the drone. krishna says, 'My husband is busy with the kids on his honeymoon.'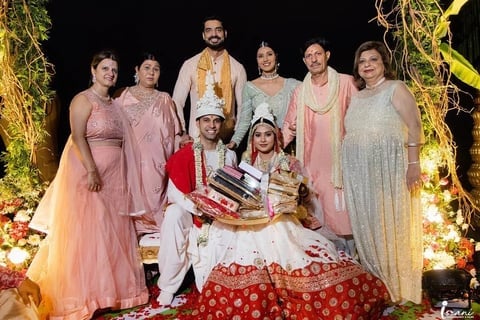 Krishna Mukherjee's first meeting with her husband
Krishna had shared with the 'Bombay Times how she first met Chirag and where it happened. She said, "I went on a holiday with my friends and met Chirag on a cruise. He was very nice, and caring and we became instant friends. We dated for almost a year. Now you won't find guys like that, Who are very supportive and understanding. I am glad that I have found a good person in Chirag." Despite being a vegetarian herself, she also told about cooking non-veg food for her husband.
Krishna Mukherjee talked about bonding with their mother-in-law
In the interview, she said, "I don't know how to cook non-veg food and my husband likes non-veg. He jokes with me about making good tea and food. We were laughing about how to cook non-veg for me." Will be a huge task. However, my in-laws are very supportive. My mother-in-law never once made me feel that I am a daughter-in-law, she treats me like her own daughter." krishna Mukherjee celebrated the festival of 'Navroj' with her husband, was seen flaunting mangalsutra-chuda and vermilion
మరింత సమాచారం తెలుసుకోండి: