Kane Williamson withdraws from IPL due to injury..!?

Kane Williamson has been completely ruled out of the 16th season of IPL after injuring his knee while fielding in the first match against CSK. Williamson's exit will be a setback for gujarat Titans. The 16th season of IPL started yesterday. The first match between CSK and gujarat Titans at the narendra modi Stadium, Ahmedabad. In this match, gujarat Titans won the toss and chose to field.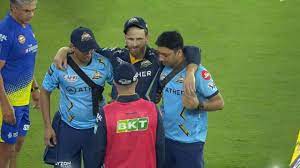 Batting first, the CSK team scored 178 runs in 20 overs thanks to Ruduraj Gaikwad's impressive batting (92 runs off 50 balls). Ruduraj Gaekwad, who came close to the century in action, was dismissed for 92 runs and missed the century by 8 runs. Chasing a target of 179 runs, the gujarat Titans team hit the target in the last over and won by 5 wickets and started this season with a win.
Gujarat Titans player Kane Williamson injured his knee while fielding in the first innings of this match. So he could not continue fielding. Williamson did not bat in the 2nd innings. However, due to a knee injury, he could not continue to play this season. So Williamson is completely out of this season. gujarat Titans, who made their debut last season, created a record by winning the trophy in their debut season. gujarat Titans have bid for Kane Williamson, the senior player who was dropped by Sunrisers hyderabad and one of the greatest players of all time, to strengthen the team in their bid to win the trophy this season as well. His presence on the field would have helped hardik pandya in the captaincy. But now that he is unable to play, it will be a setback for Gujarat.
మరింత సమాచారం తెలుసుకోండి: