Biggboss Contestant taught Vijay tv the right lesson..!?

Bigg Boss Season 6 is currently running successfully on Vijay TV. Many people are saying that vikraman will go till the end. Because his every comment is loved by fans. Due to this, he is getting popular support. In this situation, vikraman has taught the right lesson to Vijay TV. That means this week's task is expected to be very interesting. Like the jai Bhim film, it is going to be a step task to tell the life of tribal people.

When Shivin recites this task, it is written that tribal people should be slaves. Immediately vikraman suspiciously asked if it is a slave. vikraman mentioned that it is wrong to refer to anyone as a slave. So bigg boss will change this word to servant within a few minutes. He told the contestants not to insult the tribals. After that vikraman told Shivin that it was very wrong to use the word slave during the discussion.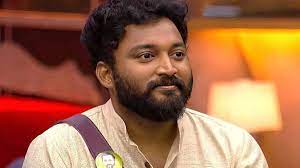 Every time Vijay tv gives a toss, you have to read and watch it several times. But now vikraman has saved Vijay tv by pointing out that mistake. Now that video of vikraman is trending on the internet. Thus Vikraman's handling of some precise things very carefully is liked by the fans. Vikraman's reputation among the people continues to increase. Due to this, fans are clamoring that he is definitely the bigg boss title winner.
మరింత సమాచారం తెలుసుకోండి: