CSK vs GT IPL: Rain whipped blockbuster Finale..!!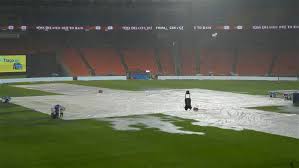 After the third delivery of chennai Super Kings' innings, after gujarat Titans had reached 214/4, the stadium was heavily rained upon.
Sai Sudharsan scored 96 runs off just 47 balls to lead gujarat Titans to a total of 214/4. The 23-year-old chennai native made the most of the final few overs by slamming eight fours and six sixes in his innings. On a day when his talented opening partner Shubman Gill was held to a score of 39 off 20, Wriddhiman Saha hit 54 off 39. The GT innings only experienced a few light drizzles, which didn't lead to any kind of interruptions. However, with heavy rain pouring down on the stadium, the play was eventually stopped after the third ball of the first over of the CSK innings. 
While the majority of those in the lower stands fled upstairs in search of safety, quite a few remained and danced in the showers. The stadium has been packed since the coin toss, so it seems likely that everyone here has taken time off work to attend. Who wouldn't want to be at the stadium on a rainy monday night than to be drenched and on the way home soaked.
మరింత సమాచారం తెలుసుకోండి: