Taapsee exudes hot pics of wanderlust in a Saree...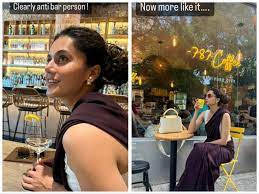 Taapsee Pannu has posted a few images from her stroll through the city while on holiday in New York. The actress lounged in the sun while dressed in a saree, a white crop top and trainers. She is travelling with her sister Shagun Pannu and boyfriend and badminton champion Mathias Boe.
Taapsee posted a couple of images of herself wearing a purple saree, a white blouse and white trainers while enjoying her Saturday, as well as sunglasses to protect her eyes from the sun. She posted a photo of herself in a pub and captioned it, "Clearly anti-bar person." The next image showed her enjoying a cup outside of a cafe.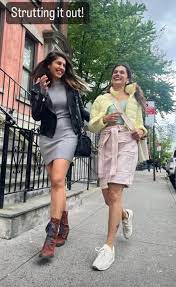 Taapsee is currently taking a vacation from Dunki, the film directed by Rajkumar Hirani. In the movie, she is collaborating with Shah Rukh Khan for the first time. vicky kaushal plays a crucial part in the movie as well. Taapsee and Shah Rukh recently travelled to kashmir to film a movie.
Taapsee has been dating mathias boe from denmark for a number of years. Taapsee stated, "I've been dating the same person, thankfully, for a really long time, in an interview. It's not like I've ever avoided taking responsibility for my actions. In response to a question about why they don't post photos of themselves on social media, she clarified that they are not "trying to run away from accepting our relationship," and she said, "Thankfully, we have succeeded in making moments to spend with one another and that has made this long-distance relationship endure for over nine years now."
మరింత సమాచారం తెలుసుకోండి: