From prithvi Ambani to Taimur-Raha: Star kids who are heirs to a fortune worth billions
Here we are going to tell you about those star kids, who are the heirs of the billions of wealth of the super-rich family. These include names ranging from prithvi Akash Ambani to Raha Kapoor and Taimur ali Khan
Being born into a rich and respectable family has its distinct advantages. However, being a part of a prestigious family also comes with certain responsibilities and expectations, which are also a big challenge to fulfill and live up to. There is no doubt about the fact that children born into a famous families are in the eyes of the media since childhood and are no less than a star. Here we are going to tell you about some such popular super rich star kids who were 'born with a golden spoon in their mouth'
1. Prithvi, son of akash Ambani and Shloka Mehta
Akash Ambani, the elder son of indian business tycoon mukesh Ambani, is carrying forward the family legacy. akash is married to Shloka Mehta. The couple adopted parenthood on 10 december 2020 with the birth of their son Prithvi. Talking about the property of Prithvi's parents, akash is the owner of property worth Rs 2.9 lakh crore and his wife Shloka Mehta has property worth Rs 130 crore. In such a situation, it is not difficult to say that prithvi is going to live a very luxurious life.
2. Vamika Sharma kohli, daughter of anushka sharma and Virat Kohli
India's popular star kids also include indian cricketer virat kohli and Vamika Sharma kohli, daughter of bollywood actress anushka Sharma. anushka and Virat welcomed Vamika on 11 january 2021. Now talking about the property of Vamika's parents, according to reports, the couple owns property worth Rs 1250 crores. So it is no surprise that Vamika is one of the super-rich star kids.
3. Ayansh Singh Rawat, son of Mohena Kumari Singh and suresh Rawat
Real-life princess and former tv actress Mohena Kumari Singh and her husband Suyyash Rawat welcomed their little prince on 15 april 2022. It was a big day for the princely state of Rewa. Indeed, Mohena is the princess of Rewa and her first son Ayansh will certainly play a major role in the future of the princely state of Rewa. Not only this, his father Suyash Rawat is the son of Satpal Maharaj of uttarakhand, who is the tourism minister of uttarakhand and the richest mla in the state with an estimated net worth of Rs 142 crore.
4. Isha Ambani and anand Piramal's twin children Adia and Krishna
Mukesh Ambani's daughter Isha Ambani is married to anand Piramal, son of Piramal Group owner ajay Piramal. The couple was blessed with twins Aadiya and krishna on 19 november 2022. Since then the children have remained in the limelight. If we talk about Isha's net worth, then it is around 654 crores. At the same time, anand is the owner of total assets of Rs 43,988 crore. In such a situation, it is not difficult to guess about his luxurious future.
5. Nayanthara and Vignesh Shivan's twins Uyir and Ulagam
Famous Nayanthara and her director-husband vignesh shivan as South's Lady Superstar accepted parenthood through surrogacy on 9 june 2022. It cannot be denied that Nayanthara's kids Uyir and Ulagam are already the most talked about celeb kids in the country thanks to their mother's stardom across the country.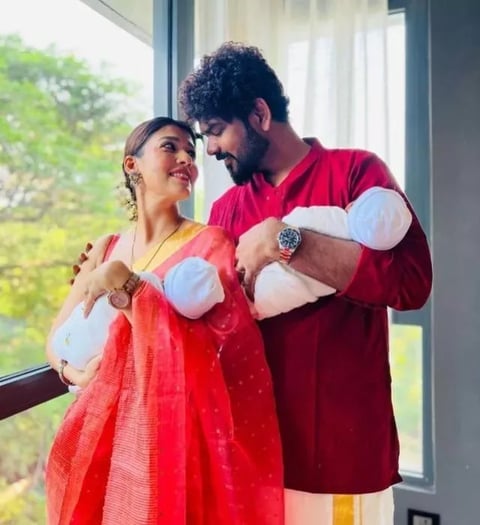 However, Uyir and Ulagam are also included in the list of children in the country who are very rich. According to reports, his mother's net worth is around Rs 165 crore. While the net worth of his filmmaker father is around 50 crores. From Isha Ambani-Anand to Nayanthara-Vignesh, these celeb couples are parents to twins
6. Anuradha karan adani, daughter of karan adani and Paridhi Adani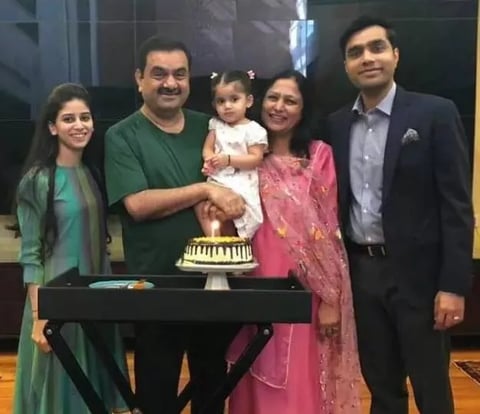 According to 'Bloomberg', Adani's net worth is $61.3 billion, while 'Forbes pegs his net worth at $57.6 billion. At the peak, forbes estimated Adani's net worth at $155.7 billion. karan adani, the elder son of gautam adani, is married to Paridhi adani, daughter of renowned indian lawyer Cyril Shroff. The couple got married on 13 february 2013. The two welcomed a daughter Anuradha karan adani in the year 2016. Talking about Anuradha's fortune, her family legacy, immense wealth, and family background is making a huge sum for her.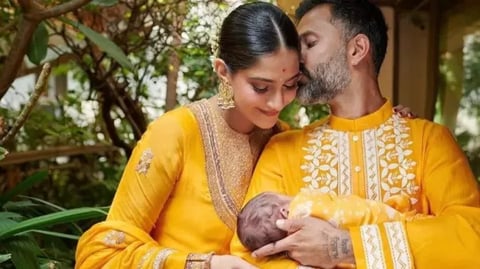 The list of the country's richest children also includes Vayu, son of actress sonam kapoor and businessman anand Ahuja, who was born on 20 september 2022. The couple has named their son Vayu. Talking about Vayu's wildly rich luck, then while his mother is the mistress of 95 crores, Anand's net worth is around 3000 crores. Yes, anand is the son of famous businessman Harish Ahuja, who is the Managing director of 'Shahi Exports'.
8. Taimur-Jeh, son of kareena kapoor Khan and Saif ali Khan
Popular bollywood actress kareena kapoor Khan, who belongs to the Kapoor family, is married to the younger Nawab of Pataudi and actor Saif ali Khan. The couple has two sons Taimur ali Khan and Jahangir ali Khan. Both Kareena and Saif's sons are paparazzi's favorite celeb kids. It is often said that the star kid culture in india was started by Taimur ali Khan, who has been in the limelight since his birth.
Taimur and Jeh are super popular as well as belong to a super rich family. While Kareena is the owner of assets worth Rs 485 crore, her husband Saif has assets worth Rs 5,000 crore. In such a situation, it can be said that Taimur and Jeh have immense wealth.  Alia-Ranbir to Anushka-Virat: 8 celeb couples who chose Hindu names for their baby girls
9. Raha Kapoor, daughter of ranbir kapoor and alia Bhatt
A famous celeb couple got married on 14 april 2022. About 7 months after the marriage, the couple adopted parenthood on 6 november 2022 with the birth of their daughter Raha. Though the duo has not shared any pictures of their daughter Raha till now, Raha has joined the list of popular celeb kids ever since she was born.
Raha's future will be fully luxurious, it can be gauged from the fact that her father Ranbir Kapoor's net worth is around Rs 337 crores, while Alia's net worth is around Rs 158 crores
మరింత సమాచారం తెలుసుకోండి: